Castle, Jennifer. You Look Different in Real Life. New York: Harper, 2013. 978-0-06-198581-2. 355p. $17.99. Gr. 8-12.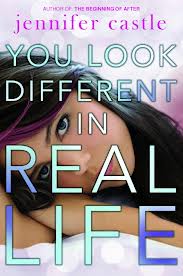 Justine was six years old when she and four of her classmates were selected to be the focus of a documentary focusing on the lives of a typical group of kindergarteners.  Five years later, a follow-up film documented their evolving friendships, personalities, interests, hopes and dreams.  Now as the teens reach the age of 16, the time has arrived to document them for a third film.  Only this time, Justine is uncertain if she wants to participate in the project.  An outspoken youngster, she was the undisputed star of the prior documentaries.  But at 16, she is disappointed in the choices she has made and the boring direction her life seems to be taking.  She's not the only film participant whose life hasn't turned out the way they imagined.  The five teens, once close as children, now seldom speak.  Close friendships have broken and families have disintegrated.  Some of the five have embraced their minor fame, while others have sought to reinvent themselves in reaction to their portrayals in the films.  When filming on the third movie commences, the five teens are sent by the film directors on a weekend retreat.  Forced to once again interact, will the teens come to some type of understanding about the fracturing of their relationships and their future?
Realistic                       Elizabeth Henry, Lampeter-Strasburg HS/MS
I would rate this book three stars (out of five).  The plot of the book seems to have been inspired by director Michael Apted's Up documentary series which started in 1964 with a group of children and has revisited them every seven years until present day.  (In America, this documentary series is usually shown on PBS).  In a documentary film, it is relatively easy to follow multiple storylines.  In a novel, it becomes a bit more problematic.  Having to follow the evolving storylines of five characters did cause the plot to lose focus at times.  However, there were sections and scenes within You Look Different in Real Life that were quite powerful and affecting.  The reader does gain perspective on how participation in reality films/shows could alter the life of a child/teen and those around them.