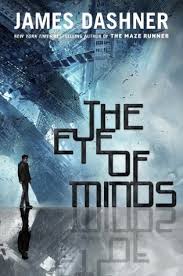 Dashner, James. The Eye of the Minds. New York: Delacorte Press, 2013. 9780385741392. 310 p. $18.99. Gr. 7-12.
Michael and his best friends Bryan and Sarah, met in the VirtNet, which is where they spend a large part of their day hanging out at coffee shops and discussing the best way to 'code'. The VirtNet is a gamers paradise where 'players' are able to participate in some of the most sophisticated video games ever invented. Unfortunately, one 'gamer' has gone too far and has learned how to manipulate the minds of the 'players' to the point that if a gamer dies within the VirtNet, they are truly dead. Michael and his friends must use their best hacking skills to locate the source of this destruction before it gets worse.
Science Fiction; Suspense            Krista Goodzinski, Riverside MS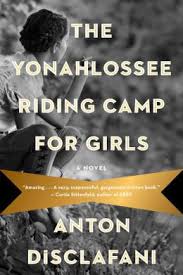 DiSclafani, Anton. Yonahlossee Riding Camp for Girls. New York: Riverhead, 2013. 978-1-59448-640-1. 388 p. $19.95. Grades 10 and up.
Fifteen-year-old Thea Atwell is sent to the Yonahlossee Riding Camp for Girls, a combination summer camp / finishing school for affluent girls, in the summer of 1930 after a tragic event rocks her family.  Due to her father's profession, a doctor in rural Florida, and her mother's inherited citrus groves, Thea's family is sheltered from the harsh effects of the depression allowing her more freedom and opportunities than most girls her age.  The book appears to have everything a teen girl would wish for in a good book: a captivating time period, strong female character, romance, and drama. However, drawn-out flashbacks leave the reader feeling bored instead of filling her with suspense. Also, Thea's sexual explorations and desires might be too graphic for teenagers. Leave this one for matures readers to find on their own and pass on putting it on your library's shelves.
Historical Fiction; Coming-of-age          Laura Ward, Fox Chapel Area HS
Yancey, Rick. The 5th Wave. New York: Putnam, 2013. 978-0-399-162141-1. 480 p. $18.99. Gr 7-12.
Aliens invade the Earth in a series of waves, leaving darkness, infection and destruction in their path. 16-year old Cassie is alone in the apocalypse, haunted by fragmented memories of family members left behind. She has learned that the only way to survive is to trust no one, as the aliens kill or infect all humans they find. It's when Cassie is brutally wounded that she must trust her rescuer- a mysterious, nurturing boy named Evan who may not be all he seems. Cassie's narrating voice is authentic, funny and raw, which will keep teen readers on the edge of their seat as she navigates a desperate world and an unexpected blooming love. Readers of all genres will be satisfied with Yancey's genre crossing novel that is solidly grounded in reality. This is the first of a planned trilogy.
Dystopia, Science Fiction                       Vicki Schwoebel, Friends' Central School