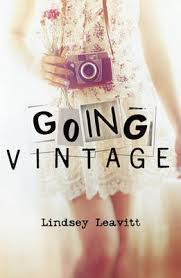 Leavitt, Lindsey. Going Vintage. New York: Bloomsbury, 2013. 978-1599907871. 320 p. $16.99. Gr. 9-12.
Cyber bullying is currently a hot topic in educational circles, and much literature has been written on the topic. Leavitt takes a lighter approach to cyber bullying in her newest novel, Going Vintage. The main character, Mallory, thinks that she has the perfect boyfriend, and they spend most of their time together. One day, however, Mallory logs on to Jeremy's computer and discovers that Jeremy is cheating on her with an online girlfriend as part of a virtual world called "Authentic Life." Mallory feels betrayed and decides to give up on boys and technology. While cleaning out her grandmother's house with her antique-dealer father, she locates a list that her grandmother wrote of her goals for 1962. Among the items on the list are: finding a steady boyfriend, sewing a dress for homecoming, cooking a family meal, running for pep club secretary, and doing something dangerous.  Mallory makes it her goal to complete her grandmother's list. She soon realizes that it is harder than she thought to give up on technology, even though creating a pep club means that she will be spending more time with Oliver, Jeremy's cute and fun cousin. The novel provides insightful commentary on our current teenage population's obsession with their phones. Mallory feels isolated from her friends at times, but also discovers pleasure in simple things like phone calls with Oliver. The novel seeks a balance between scaring students and making them think about their actions, and does an excellent job of achieving this goal.
Realistic                        Lindsey Myers, Peters Township High School
As I am sure many teachers and adults in general have noticed, students these days are obsessed with technology, mainly their Smartphones. Students are constantly connected to their phones and are either texting, Snapchating, listening to music, or Tweeting.
This book would be an excellent companion piece to a lesson on the pervasiveness of technology and our dependence on, and sometime addiction to, our personal devices. Currently, I am working on a unit on Digital Citizenship with Honors English 9 students. Their final project is to design a lesson on some aspect of digital citizenship for a chosen grade from Kindergarten through fifth grade. Students began with researching the topic, and then were given a lesson plan outline and suggestions on completing their lesson. I am amazed and excited about the ideas and discussion that has resulted from these lessons.  I wish that we had more time (don't all librarians?!) so that I could share passages from this book along with articles on the uses and abuses of social media. Our next part of the lesson will involve having students read recent articles on social media, and using chapters of this book would be an excellent strategy for incorporating novels into discussions of social issues and technology. I am certain that many students can relate to Mallory's reliance on her cell phone and the feeling of being left out when not connected to this device, but also feeling as though technology is overtaking their lives.  I am going to suggest it as a title for our book club in the spring and hopefully work with the English teachers in various grades to use parts of the book to introduce the concepts of digital citizenship.