Lee, Adrienne.  Aztec Warriors (Legendary Warriors series). North Mankato: Capstone Press, 2014.  978-1-4765-3117-5. 32 p.       $25.99. Gr. 3-6.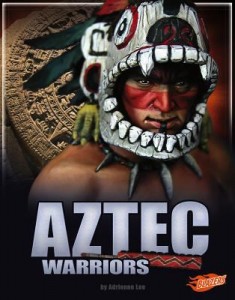 This interesting, attractive hi/lo series includes Aztec Warriors, Gladiators, Knights, Ninja, Samurai, and Vikings.
Aztec Warriors contains a few sentences of information with lots of illustrations on each two-page spread. The facts are stated succinctly and glossary words are included in sidebars at the bottom of the page, making this book a good choice for a reluctant reader. It's certainly interesting—did you know that Aztec warriors were either Eagle or Jaguar warriors, wearing suits of animal skins or cloth covered with feathers?  
This title includes a table of contents, glossary, index, "Read More" section, and internet sites. One note: this series is a reworking of Capstone's "Warriors of History" series, so I wouldn't recommend these books if your library owns that set.
972                                 Lindsey Long, Nye Elementary School