Shaughnessy, Mara. LEGO Man in Space: A True Story. New York: Sky Pony Press, 2013.                                             978-1-62087-544-5. 32 p.       $14.95. Gr. K-3.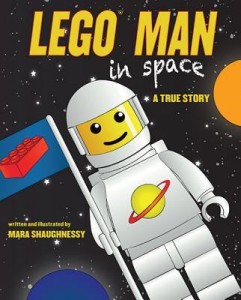 This book tells the true story of two children, Mat and Asad, who launched a LEGO figure into space. The LEGO man traveled 80,000 feet into the air in a spaceship made of a weather balloon and a homemade parachute, and the boys included a cell phone with GPS so that they could track the spaceship when it landed.  The title is "narrated" by the LEGO man who made the trip, blurring the lines between strict fiction and nonfiction, but lending a fun gimmick to attract young readers. The illustrations are colorful and help show the different steps in LEGO man's journey.
This would be a great book to preview with younger kids—show them the YouTube video and there will surely be tons of LEGO fans ready to read!
621                              Lindsey Long, Nye Elementary School