Easy Reader: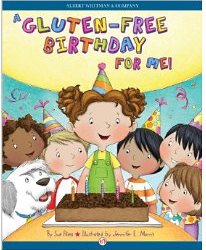 Fliess, Sue. A Gluten-Free Birthday for Me!.  Parkridge, IL: Albert Whitman & Company, 2013. 32 p. col. ill. $16.99. 978-0-8075-2955-3. Gr: Pre-K-2.
This book's title caught my eye right away. Since my building houses the only full time elementary nurse, we have varied health issues in the building and one of the growing issues is severe allergies and food intolerance.  While the story line is what the reader would expect, it is to the point but worded in rhyme which makes it appealing to the audience. The illustrations are bright and what one would expect of a birthday type book. Although it is cataloged as an Easy, the book contains recipes, dietary suggestions and selected online resources.
Easy.       Lourie Stewart, Dunbar Township/ Dunbar Borough Elementary Schools
Non-Fiction: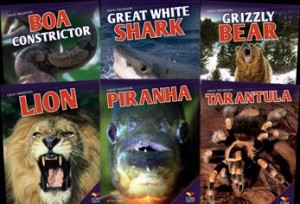 Great Predators (series). Mankato:ABDO, 2013. 38 p. $29.00. Grades 3-5.
Cain, Patrick. Komodo Dragon 978-1624030147.
Morano Kjelle, Marylou. Lion. 978-1624030154
Lanser, Amanda. Boa Constrictor. 978-1617839450.
Gagne, Tammy. Crocodile. 978-1617839467.
Markle, Sandra. Great White Shark. 978-1575057477.
Jensen Shaffer, Jody. Grizzly Bear. 978-1624030130.
Ingalls, Ann. Piranha. 978-1624030161.
Strother, Ruth. Tarantula. 978-1624030178.
Kids are drawn in by the animals that they equally love and fear. Inquisitive sub titles, interesting facts and bold photos of the animals in their natural environment peek the reader's interest to learn more about these fascinating creatures. Included is a table of contents, glossary, index, charts, text boxes, photo captions, and a learn more section with additional resources.
590; Animals, Predators     Robin Bartley, Davis Elementary
Animal Abilities (series). Chicago: Raintree, 2013. 32 p. $13.00. Grade 3-5.
Clayborne, Anna. Animal abilities : Octopuses. 978-1406259124.
Guillain, Charlotte. Bats. 978-1410952431.
Guillain, Charlotte. Dogs. 978-1410952370.
Guillain, Charlotte. Elephants. 978-1406259100.
Clayborne, Anna. Orcas. 978-1410952462.
Clayborne, Anna. Rats.978-1410952486.
Did you know that Octopuses can change color? that dogs can count or bats use magnetism to navigate?
The animals in this series have amazing powers: moving faster than 30 miles per hour, using their tails for incredible balancing acts. Scientists explain these unbelievable facts using colorful photos, diagrams, charts text boxes and illustrations to engage young readers.
590; Animals     Robin Bartley, Davis Elementary
VanVoorst, Jenny F. We Work! Animals With Jobs: Pig Detectives. New York: Bearport, 2014. 978-1-61772-0. 24 p. $21.00. Gr. K-3.
This non-fiction book does not portray your average pet pig or farm pig; instead it portrays the life of a pig detective. It illustrates and defines the aspects of a pig detective and the jobs they have. First it starts by sharing facts about the important physical features a pig detective must have to lastly, the importance of their job in society to keep us safe. The text structures are simple and perfect for emerging readers. The illustrations are vivid and full of life. I highly recommend this book among others in the series to any elementary school.
636.4; Pigs Jenn Roth, Lincoln Elementary, Gettysburg Areas School District
Cool USA Cooking (series). Minneapolis: ABDO, 2014. 32 p. $19.95 ea. Gr. 3-5             Kuskowski, Alex. Cool Gulf Coast Cooking: Easy and Fun Regional Recipes.  978-1-61783-829-3
  Kuskowski, Alex. Cool Western Cooking: Easy and Fun Regional Recipes. 978-1-61783-833-0
Both Cool Gulf Coast Cooking and Cool Western Cooking: Easy and Fun Regional Recipes celebrate cuisine representative of cultures from their geographic regions. Beginning with an attractive kid friendly colorful format, geographic regions are described including the cultural backgrounds of their states in their region. These are matched with recipes using unique natural resources from their states. For example in Nevada, a state with many ranchers, Huevos Rancheros "ranchers' eggs" is the featured dish. Important cooking terms are introduced in each volume, "Basics" give health and safety tips, "Cool Cooking Terms" defines cooking vocabulary, "Tool Box" shows the tools required, "The Ingredients" display labels and photos of the ingredients. These are followed by eight enticing regional recipes in each book. The layout for each recipe is effectively organized in 5 simple yet comprehensive steps, accompanied by photos of preparation as well as the completed dish, attractively served. Readers will find success making the tasty "Smooth and Spicy Chile con Queso" dip from New Mexico.  In Cool Gulf Coast Cooking: Easy and Fun Recipes, written in the same format, there are colorful tangy treats reflecting foods unique to their tropical climates. Readers will find the Tang-a-licious Key Lime Pie especially delicious and easy to make. Both titles include a glossary, websites from the ABDO Book Links page, and a comprehensive index. These titles bring informational texts alive, connecting historic cultures, how-to-do-it texts, and critical thinking, with the challenge of creating delicious meals. The titles above in the Cool USA Cooking series provide a perfect Common Core learning opportunity allowing students to make effective use of informational texts for real world connections in their own lives by creating dishes, inspired from the Gulf Coast and the American West.
641.597 Cooking, Food              Martha Lambertsen, Wallingford Elementary School
Core Library: Continents. (series) North Mankato: ABDO, 2014. 48 p. $22.95 each. Gr. 3-6
     Brown, Rita. South America.  978-1-61783-934-4.
     Francis, Suzanne. Europe. 978-1-61783-932-0.
     Hinds, Maurene J. Antarctica. 978-1-61783-929-0.
     Klepeis, Alicia. Africa. 978-1-61783-928-3.
     Koenig, Emily. North America. 978-1-61783-933-7.
     Onsgard, Bethany. Asia. 978-1-61783-930-6.
     Weil, Ann. Australia. 978-1-61783-931-3.
Explore the geography, weather, animals, plants, cultures, and quick facts of the continents. Each book is divided into five chapters. Suggestions for research topics can be found and fact boxes encourage additional research on a variety of different paths. For example a source from July 18, 1896 is shared about the Mount Erebus volcano to encourage critical thinking skills and the common core.
Antarctica (990), Africa (960); Geography    Beth McGuire, Wendover Middle School

Football Stars Up Close (series). New York New York: Bearport, 2013. 24p. $18.00 each. Gr. K-3
   Allen, Kathy. Drew Brees. 978-1-61772-716-0.
   —. Tom Brady. 978-1-61772-717-7.
   —. Tony Romo. 978-1-61772-719-1.
   Schuh, Mari. Aaron Rodgers. 978-1-61772-714-6.
   —. Adrian Peterson. 978-1-61772-718-4.
   —. Troy Polamalu. 978-1-61772-715-3.
The book has fact captions printed inside a football. Terms are placed in bold font. Children will learn that while Adrian grew up with a family that didn't have a lot of money but did not let that get in the way of his goals. The book has a time line, glossary, index, bibliography, read more and learn more online sections. [Andrew Luck, Robert Griffith III, and Colin Kaepernick are part of the 2014 edition]
796.332; Football players/biography            Beth McGuire, Wendover Middle School
Earth's Treasures (series). Minneaopolis, MN: ABDO Publishing Company, 2014. 32 p. $18.95 ea., $113.70  set of 6, library binding, available in ebook form. Grades 3-6.
   Petersen, Christine. Diamonds  978-1-61783-870-5
    —. Gold  978-1-61783-871-2
    —. Jade   978-1-61783-872-9
    —. Pearls  978-1-61783-873-6
    —. Silver  978-1-61783-874-3
    —. Turquoise  978-1-61783-875-0
All books are formatted the same: 32 page, color photographs, glossary, other resources (books and websites) about the subject, and a phonetic "saying it" list of words and index in the back. All books start with a Table of Contents giving a short list of material covered. Each book is common core and state standard aligned and contains an Accelerated Reader test.  Readers will discover how these treasures form, where they are located, and how to find some treasure on the reader's own. Along the way, they will learn how each treasure is used, from art to industry. The entire series can be viewed at:
http://www.abdopub.com/shop/pc/configureprd.asp?idproduct=34976
553 Gems, Mineralogy
Lourie Stewart Dunbar, Township/Dunbar Borough Elementary Schools
Forest, Christopher.  Present what you know : sharing information (Research Tool Kit series).  North Mankato, MN: Capstone Press, 2013.  978-1-4296-9949-5. 32p.  $26.65.  RL: grades 3-4.  IL: grades 3-6.
This short instructional book is filled with an array of tips, tools, and types of presentations.  It is divided into writing methods geared toward research, presentation, persuasive, and narrative writing.  The layout is simple yet helpful, with Steps to Success and Info boxes along the way.  The information reaffirms most strategies that librarians would teach, and connects with the classroom and technology through tips on podcasts, speeches, blogs, newsletters, and internet research.  I would be interested to see the whole series.  Recommended.
372: Research                      Dustin Brackbill State College Area School District
Graphic Novels:
Lee, Stan. (Thor, tales of Asgard series) Minneapolis: Spotlight, 2013. 24p. $24.21. Gr. 3+.
—.The challenge! 978-1-61479-171-3.
—.The quest for Mystic Mountain! 978-1-61479-172-0.
Marvel legends Stan Lee and illustrator partner Jack Kirby are back to bring a new generation of comic fans these origin stories of Thor, god of thunder. Each of these small graphic novels contain action-packed episodes unfolding the back story of the Norse Gods and Thor from his childhood through teenage years, before he came to Earth as Don Blake. Additional features at the end include character bios and enlightening details about the Asgard world. The artwork is brilliant and the dialog contains some challenging vocabulary. Your young graphic novel and classic comic book lovers will eat these up; I can't keep them on the shelf!
741.5 Graphic Novel               Kathie Jackson, Plymouth Meeting Friends School 
Caramagna, Joe. Iron Man and the Armor Wars (series). Minneapolis: Spotlight, 2014. 24p. $24.21. Gr. 3+.
   —. Part 3, How I learned to love the bomb.  978-1-61479-166-9.
   —. Part 4, The Golden Avenger strikes back. 978-1-61479-167-6.
Iron man creators Joe Caramagna and artist Craig Rousseau give us a slick and colorful storytelling package that is sure to please your action hero and comic fans. In this Armor wars series, the defense industry mogul and snarky playboy Tony Stark is captured by the Red Barbarian and his Neo-Soviets who use the toughest suit of Iron Man armor–the Hulkbuster–against him. Each slim volume contains action-packed episodes that will keep your readers of all ages coming back for more. The 24 page format will entice younger readers but the challenging vocabulary and beautiful artwork will entice your older students as well.
741.5 Graphic Novel               Kathie Jackson, Plymouth Meeting Friends School
Fiction: 
Gleason, Colleen. The Clockwork Scarab: A Stoker & Holmes Novel. San Francisco: Chronicle Books, 2013. 9781452110707. $17.99. Gr 7 and up.
Stoker and Holmes are two well known families in Victorian London. Mina Holmes and Evaline Stoker are the young women who are attempting to fill the legendary shoes of their families' legacy. Drawn together in a serial murder mystery they are forced to recognize each other's strengths and weaknesses so that they may work together to stop the forces that are harming the women of London.
The novel alternates between both perspectives for chapters. Since Mina and Evaline are polar opposites this allows teens more opportunities to identify with one of the lead characters. The mystery plot is well written and tightly paced. There are sufficient amount of clues so that one does not become overburdened and can try to solve the murders along with Mina and Evaline. This new series could be a way to introduce the Sherlock Holmes and Dracula classics by encouraging reader curiosity on the legendary characters that are mentioned but rarely seen.
Fantasy/Steam Punk     Kelsey DeStevens, Jewish Day School of Lehigh Valley
Eddleman, Peggy. Sky Jumpers. (series). New York: Random House, 2103. 288 p. $15.00 Gr 5-7.
   —.   Sky Jumpers. 978-0307981271.
   —.    Forbidden Flats. 978-0307981318.
The year is 2069. Earth has been partially destroyed by green bombs. Twelve-year-old Hope lives in one of the few safe areas that remain. The Bomb's Breath, A life-threatening pocket of oxygen molecules, has blocked the use of most modern technology. Besides being a threat, the Bomb's Breath also serves to protect the town from invaders. Hope's talent is jumping through the Bomb's Breath. She has kept a secret from everyone but Aaron until a group of thieves manage to break through and reach the town and bring with them a deadly virus developed during the war. The only chance is for Hope to "jump" and find help from neighboring villages.
Science Fiction/Dystopian     Robin Bartley, Davis Elementary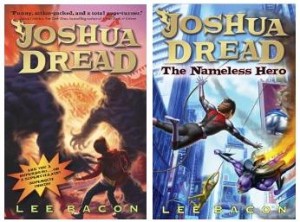 Bacon, Lee. Joshua Dread (series). New York: Yearling, 2013. 217 p. $14.00ea. Grades 4-6. 
 —.   Joshua Dread. 978-0307929983.
 —.   Joshua Dread: The Nameless Hero. 978-0385741866. 
Josh is in middle school. Besides being bullied for being different, Josh must keep a big secret. His parents are the super-villains known as Dread Duo whom Captain Justice is chasing down. Not only must he try to hide his identity but his newly discovered powers of his own. Will he use them for good or evil, like his parents? The series is light hearted, action packed and fun, but also poses questions about real life topics such as good vs evil, family loyalty, fame and friendship.
Fantasy     Robin Bartley, Davis Elementary
O'Brien, Annamarie. Lara's Gift. New York: Knopf Publishing, 2013. 978-0307931740.  $17.00. Grade 5-8
Lara's family breeds borzoi dogs for the Tsar. She is being groomed to be Count Voronstov's next kennel steward until her baby brother is born and her father decides that he should be next in line. Lara must save her favorite dog, Zar, the one she raised from birth, from a pack of wolves. Sure of her connection to the dogs, Lara reveals the truth about her visions and discovers her true destiny. . . . This compelling story flows with beautiful imagery creating the perfect setting for this powerful, moving story about the bonds of love and family.
History (Russia 1904-1914)      Robin Bartley, Davis Elementary