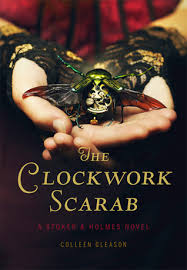 Gleason, Colleen.  The Clockwork Scarab.  San Francisco: Chronicle Books, 2013.  978-1-4521-1070-7. $17.99.  Grades 8 and up.
Evaline Stoker and Mina Holmes are prominent members of society in a steampunk Victorian London.  Evaline's brother is the famous author Bram Stoker and Mina's uncle is Sherlock Holmes.  The young women share the talents of their distinguished family members; Evaline is a vampire hunter and Mina is a skilled investigator.  One day, the two receive a summons to the British Museum by Miss Irene Adler, who has been retained by The Princess of Wales to solve a mystery.  Prominent young women of society are disappearing and being found murdered.  It is the Princess' hope that these crimes can be solved in a discreet manner, and it is the reason that Evaline and Mina have been summoned.
Mystery, Steampunk Fiction                                    Susan Fox, Washington Jr./Sr. High School
Evaline and Mina begin investigating the crimes, and come to discover that the girls who have disappeared were involved in a secret cult based on Egyptology.  The more they discover about the mysterious cult, and its message of liberation for females, the more danger they put themselves in.  Fortunately, they are not alone in their efforts to discover more about the cult.  Other story characters include Inspector Grayling from Scotland Yard, Pix (a mysterious figure who always seems to be nearby when needed), and Dylan Eckhert (a time traveler).  The male characters add different perspectives to the story, as well as some romantic interest.
This story is not wrapped up in a neat package by its end; there will be more adventures involving Mina, Evaline, and the other characters.  I thought this was an engaging mystery and the steampunk version of Victorian London is very atmospheric.  The best thing about the novel was the relationship between the two main characters.  Mina is proper, intelligent, and an expert at logical reasoning.  She has many insecurities, though.  Evaline is beautiful, physically strong (essential for a vampire hunter), and decisive.  However, her decisiveness can quickly turn into impulsiveness.  The two young women don't like each other at the beginning of the book, but they grow to appreciate each other's talents.  Their abilities are complementary, and I am looking forward to more novels featuring Mina Holmes and Evaline Stoker.