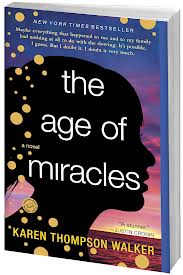 Walker, Karen Thompson. The Age of Miracles. New York: Random House, 2012. 978-0812982947. 304 p. $15.00. Gr. 9-12.
Eleven-year old Julia lives a normal life with her mother and father in southern California. She does well in school, plays soccer, and spends most of her free time with her best friend, Hanna. Yet, one Saturday morning, everything changes. While Julia and her family watch on television, the announcement is made that the rotation of the earth is slowing. In addition, the force of gravity becomes stronger. The world begins to change. Suddenly Julia and her friends can no longer kick a soccer ball as far. Birds begin dying and falling from the sky, and the tides flood houses along the shoreline. Crops start dying as days lengthen and excessive sunlight kills plants. In order to maintain a sense of normalcy and organization, the government decides that, regardless of the actual length of the days, they will continue to function on 24 hour clock time. Julia must adjust to attending school in the blackness of extended nights and fighting for sleep when the sun shines brightly in the sky. Some people, though, decide that they will live according to the sun, and these "real-timers" become the object of ridicule and disdain by the "clock-timers." More serious consequences start occurring. People begin developing "the syndrome," and Julia's mother becomes ill. Julia continues to attend school and develops a relationship with a fellow classmate. It is this relationship that elevates the story from a simple disaster or apocalyptic novel to a commentary on the human response to change and our inherent need for normalcy. Julia continues to live the life of a young teen, experiencing peer-pressure at parties and bullying at school, and slowly falling in love with a boy from her class. All experiences, however, are warped by the extraordinary environment of life after the slowing. I highly recommend this novel for fans of Susan Beth Pfeffer's Life as We Knew It and Meg Rosoff's How I Live Now.  
Science Fiction                                Lindsey Myers, Peters Township High School
This book intrigued me from the beginning. I read it after one of my more discerning and critical librarian friends gave it a five-starred review on Goodreads. Knowing of her high standards and the fact that we typically enjoy the same novels, I wanted to read it immediately. I was not disappointed. The author's style of writing is simple and echoes the thoughts of the eleven-year-old narrator quite well. Yet, what I enjoyed the most was that the simple sentences and text provide a constant feeling of being suspended within an environment where nothing is as it seems and things could change at any moment. The entire book feels like the calm before the storm, and I absolutely loved that about Thompson's writing.
I was glad to have picked this book up when I did, because I was recently approached by an English teacher to give book talks on the topic of change and reactions to change in her eleventh grade English classes. The classes are currently reading The Red Badge of Courage, and the teacher wanted to give her students the opportunity to hear about some more contemporary novels that offer similar themes but might be more engaging for our modern audience. After discussion, our goal became to share with students novels and nonfiction texts in which the characters are placed in extraordinary circumstances, and the qualities and characteristics that they develop and exhibit during these experiences. This book was one of the ones that I shared with students first, as it offers the perfect example of the differing responses of humans to a rapidly changing environment. And, students these days are usually responsive to apocalyptic themes. I included this title with, among others, Laurie Halse Anderson's The Impossible Knife of Memory and Patricia McCormick's Never Fall Down. I enjoy giving book talks, and I was excited to be able to include this title to share with students.