Park, Linda Sue. Xander's Panda Party. Illustrated by Matt Phelan.  Boston: Clarion, 2013. ISBN. 978-0547-55865-3 40 p. $16.99. Gr. K-3.
Xander is planning a party for the bears in the zoo. When Xander invites the koala bear, he learns that the koala is not a bear so the invitation list grows to include mammals. The rhinoceros will not attend the party without his bird so the party list expands to include birds. Next, the crocodiles and reptiles wish to attend. Can Xander plan a party that pleases all of these guests?  The story is told lyrically as the illustrations show charm. The author's note further describes the issue of animal extinction and classification. With the link to these topics this picture book can be shared with middle school students learning about vertebrates or conservation. This picture book has earned starred reviews from Publishers Weekly, The Horn Book, Bulletin of the Center for Children's Books and School Library Journal in addition to being a Junior Library Guild selection. Due to the great rhyming tale with a theme of inclusivity and phenomenal artwork found in Xander's Panda Party, I have selected this novel to be part of the best of the best in children's literature list.
 Fiction picture book, zoos                                  Beth McGuire, Wendover Middle School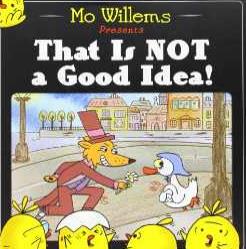 Willems, Mo. That is Not a Good Idea! New York: Harper Collins Publisher, 2013.   978-0-06-220309-0.  42 p. $17.99. Gr. K-3.
This is another creative piece of work by Mo Willems. It is creative, humorous, and keeps readers wanting more. There is repetitive text which makes the book interactive since readers will start to participate while you read. It is a twist to the classic story, "The Three Little Pigs." Instead, the characters in the story are a wolf, duck, and her little chicks. By the end of the story, readers will think they know the ending but then a sweet surprise happens which creates laughter.
Picture Book                              Jenn Roth, Lincoln Elementary (Gettysburg Areas School District)
Park, Linda Sue. Xander's Panda Party. Illustrated by Matt Phelan.  Boston: Clarion, 2013. ISBN. 978-0547-55865-3 40 p. $16.99. Gr. K-3.
Xander is planning a party for the bears in the zoo. When Xander invites the koala bear, he learns that the koala is not a bear so the invitation list grows to include mammals. The rhinoceros will not attend the party without his bird so the party list expands to include birds. Next, the crocodiles and reptiles wish to attend. Can Xander plan a party that pleases all of these guests?  The story is told lyrically as the illustrations show charm. The author's note further describes the issue of animal extinction and classification. With the link to these topics this picture book can be shared with middle school students learning about vertebrates or conservation.
This picture book has earned starred reviews from Publishers Weekly, The Horn Book, Bulletin of the Center for Children's Books and School Library Journal in addition to being a Junior Library Guild selection. Due to the great rhyming tale with a theme of inclusivity and phenomenal artwork found in Xander's Panda Party, I have selected this novel to be part of the best of the best in children's literature list.
For tie into the common core I suggest the book Pandas (National Geographic Readers Series) by Anne Schreiber (National Geographic Society, 2010). By linking this book to the story, students will see photographs of the images that can compare to the artwork while learning additional information about pandas.
Suggested nonfiction pairing:
Schreiber, Anne. Pandas (National Geographic Readers Series). Washington, DC: National Geographic Society, 2010. ISBN 978-1-4263-0610-5. 32 p. $3.99 Gr. K-3.
 Fiction picture book, zoos                                  Beth McGuire, Wendover Middle School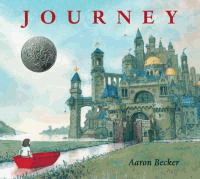 Becker, Aaron.  Journey.  Somerville, MA: Candlewick Press, 2013.  978-1-489-81936-9.  $15.99.  Unpaged.  Grades K-3.
Review: What does a creative and bored girl do when no one will play and things seem drab and dull at home?  In the case of Aaron Becker's wordless picture book, she grabs a red marker and takes a cue from Harold and his purple crayon by drawing a door into a world of adventure.  As she journeys by boat and balloon through exotic lands, the reader realizes that she is choosing her actions from page to page and inviting us to do the same.  As a purple bird becomes an ally following a daring rescue, we also realize she may find that which she most seeks: companionship for her adventure.  Becker's debut work has all the artistry and imagination that make a successful wordless book.  The color splashes with pen and ink and watercolor detail make it visually absorbing and enticing for rereading.  Plus, the ending has the reader imagining where they could go on their next journey! As with the best of David Wiesner or Anno's work, a great wordless book like this leaves enough room for wonder and interpretation to go with story and direction.  Likewise, Journey is easy to enjoy and hard to resist.  I first saw this in a bookstore, and wanted it immediately- mostly because I am a sucker for child led adventure stories and also for amazingly illustrated wordless books.  The extensions through this book are easy to pick from, whether analyzing the plot, predicting, inferencing, or sequencing.  Best of all, of course, could be a writing exercise in adding a voice and text to the illustrations.
Fiction: Wordless Picture book, Fantasy Dustin Brackbill State College Area School District
Snicket, Lemony. The Dark. New York: Little, Brown and Company, 2013. 978-0-316-18748-0 [32 p.] $16.99.  Ages 3-6 (and up.)
As it says in the book, Laszlo is afraid of the dark. It never says why or how: just that he is. The dark comes and goes but never appears to be afraid of Laszlo.  Then one night the dark visits Laszlo and something happens that Laszlo is never afraid of the dark again.  Even my second and third graders enjoyed this story as they remembered what it was like to be in the dark!
Picture Book                 Lourie Stewart Dunbar Township/Dunbar Borough Elementary Schools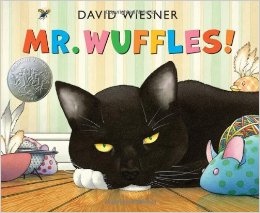 Wiesner, David. Mr. Wuffles!. New York: Clarion Books, 2013. 978-0-618-75661-2 [32 p.] $17.99. Gr. K-2.
A 2014 Caldecott Honor Book
Almost wordless, much like a cat, this story is wound around what really matters without regard to what others think. Because Mr. Wuffles has found something! Aliens: not just aliens, but a whole way of doing things. A wonderful collaboration and communication leads to the Aliens escaping in the end and Mr. Wuffles with just another toy.  This book can be used so many different ways and with so many different outcomes it is almost out of this world!
Picture Book                     Lourie Stewart Dunbar Township/Dunbar Borough Elementary Schools
Scieszka, Jon & Barnett, Mac. Battle Bunny.  New York: Simon & Schuster Books for Young Readers, 2013.  978-1-4424-4673-1. 32p.  $14.99. Gr. K-2.
A humorous spin for a picture book.  Alex receives a book from his "Gran Gran" for his birthday, which is sweet, kind and compassionate.  Alex uses his imagination and his pencil to create an entirely different story.  Each time you look through the book and read the additions you find more to the story.  Readers are drawn to the changes to the text and the illustrations.  What boy hasn't received a book that he thought would be so much better with a few changes.  For the book to have it's full effect the reader/listener has to view all the images and changes, unless using a document camera, not recommended as a read aloud for a group.  Although a book that can be read purely for enjoyment, it can also stimulate discussions regarding habitat, ecology and animals, as well as creative writing prompts.  The white space and combination of illustrations are engaging for young readers, however all the changes could be a distraction for struggling readers.
Fantasy/Humor                  Denise Naumann, Eisenhower Elementary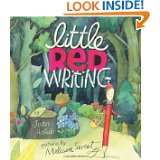 Holub, Joan, and illustrated by Melissa Sweet. Little Red Writing. San Francisco: Chronicle Books, 2013. 978-0-8118-7869-2. 31 p.  $16.99. Gr. K-3.
Little Red Writing   is a story about Little Red in Pencil School, where Ms. 2 her teacher instructs the class on how to write a story. The other pencils; birthday pencil, state pencil, and basketball pencil can't wait to write their happy, nonfiction "Great State of Pencilvania," and sports stories. Ambitious Little Red truly wants to write an adventure story about a brave and courageous character, who journeys through the school, fighting evil to "save the day."  Little Red begins by traipsing through the gym, bouncing, boogieing, and finally cartwheeling   into the "deep, dark, descriptive forest," the school library on the next page. Full of sophisticated  adjectives such as deciduous, verdant, and bosky,  the reader  itches for a dictionary to find their meaning, as they admire Melissa Sweet's sumptuous watercolor, pencil and collage illustrations of a library nestled in the woods with book shelves, lush fauna, fresh soft flowers, trees, and tiny animals peeking through. Hearing growling, the suspense intensifies as she spots a tail, and follows it into Principal Granny's office, where Little Red meets Wolf 3000, showing his big sharp teeth, instead of her Principal. Big Red musters her courage and bravery, to combat the fierce pencil sharpener, and save Principal Granny, now a short stub of a pencil, before it's too late. Full of helpful tips on parts of a story, adjectives, adverbs, conjunctions and "sticking to your story path," this clever version of Little Red Riding Hood leaves the audience inspired and ready to create their own. Little Red Writing makes a perfect read aloud, especially as an introduction to a story writing project. Team this up with Little Red Pen by Janet Stevens, another clever tail also starring characters from the school supply closet.
Picture Book                                Martha Lambertsen, Wallingford Elementary School
Fera, Doreen. Rodney Robin's Fabulous Adventure. Turnersville, NJ: Rittenhouse Publishing, 2013. 978-0-9911449-0-7. 32p. $16.99. Gr. PreK – 2.
"One summer day, young Rodney Robin spread his little wings and flew far, far from home. He wanted an adventure! He wanted to explore!" Rodney goes too far, of course, and now it's dark. He hears strange noises and sees creatures of the night and is afraid! But through a series of fun encounters with fearsome animals Rodney learns to confront his fears, make new friends, and slowly make his way back home safely. This wonderful little picture book is brightly illustrated and sure to engage your young read-aloud audience eager to hear about other little ones who can overcome the fears we all face. Recommended.
Picture Book              Kathie Jackson, Plymouth Meeting Friends School
Elliot, David. Henry's Map. New York: Penguin, 2013. 978-0-399-16072-1. 32 p. $16.99. Gr. K-2. Henry is a neatnik pig who likes "everything in its place".  He looks out his window at the farm and decides he needs to organize the mess he sees. He makes a map to make sure all the animals find their proper places. The idyllic watercolor illustrations and the stick figure map drawn by 'Henry' create a warm and loving story which will be enjoyed alone or as an ideal introduction to a map lesson/study for grades K-2.
Picture Book                 Robin Bartley, Davis Elementary