Stevenson, Robin. Attitude. Victoria: Orca Book Publishers, 2013. 978-1-4598-0382-4. 137p. Gr. 7 and up.
Australian native, Cassie Jordan, is heading to Vancouver, Canada, to dance in a summer initiative at the Pacific Coast Ballet Academy.  But the cutthroat competition turns personal when Melissa and her group of sidekicks decide to vote girls out of the program.  Cassie votes the first time, thinking it's just a silly game.  When disaster strikes, she learns Melissa can be ruthless.  With the increasing pressure to compete and keep her friends, Cassie hears her dad's voice, "Just do what you know is right, Cassie, and everything else will fall into place."  Dancing might take audacity, passion, and diligence, but so does standing up for what you believe in.  Cassie can only hope her desire to stay true to herself doesn't end up costing her a chance to become a world-renowned dancer.
Being so far away from home and living with a family, Cassie shows an admirable amount of determination and courage.  She only speaks to her parents occasionally, yet their words of  wisdom and advice still resonate within her heart.  She and other girls are bullied in subtle ways, including cyberbullying, and her quiet resolve to stand up for herself and others is quite remarkable and sends a positive message to young girls.  
Part of a series, Attitude is a great hi-lo choice for reluctant readers.
Realistic Fiction                            Christine Massey, JWP Middle School
Blumenthal, Deborah. The Lifeguard. Chicago: Albert Whitman & Company, 2012. 978-0-8075-4535-5. 277p.
Gr. 9 and up.
Instead of spending the summer at camp with her best friend Marissa, Sirena is sent to Rhode Island to live with her aunt while her parents finalize their divorce.  Thousands of miles away from home, Sirena continues to struggle with her parents' separation, the idea of returning to two houses, and the image of her dad leaving a tawdry hotel with another woman.  Then she meets Pilot, the lifeguard who patrols the local beach.  He's gorgeous and mysterious, and Sirena is attracted to him on a primeval level she doesn't fully understand.  Tormented by his taciturn demeanor and the ghosts in her aunt's house, she finds herself confiding in a local artist at the beach.  Then, in a moment of irrational conviction, she sheds all inhibition, steps into the ocean and is pulled under by a riptide.  Only Pilot will be able to save her if he finds her in time.
An alluring coming-of-age story about first love and the power of friendship and sacrifice.  With summer just around the corner, take this straight-forward novel to the beach.  Enjoy a little romance with a supernatural twist.
Supernatural Fiction                        Christine Massey, JWP Middle School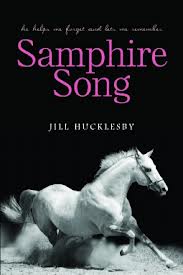 Hucklesby, Jill. Samphire Song. Chicago: Albert whitman & Company, 2013. 978-0-8075-7224-5. 287p. Gr. 6 and up.
It has been two years since Jodie's dad died, but the hurt still burdens her heart.  She tries to keep busy with school and working at the stables but feels lonelier with each passing day.  Then an unexpected surprise from her mother allows Jodie to realize her dream of owning a horse.  She stumbles on Samphire at a horse auction, and their immediate bond is undeniably powerful.  He is a spirited stallion, and some would even claim hostile and damaged, but Jodie only sees a kindred spirit.  When her brother's kidney disease takes a life-threatening turn and her mother loses her job, Jodie must make the ultimate sacrifice for her beloved brother.  Through tears, she promises Samphire they will be reunited one day, but providence may have other plans for her cherished horse.
Girls in the middle school seem to truly enjoy animal stories, especially about horses.  The plot is fairly predictable, but the love between Jodie and her horse is undeniable.  She relentlessly searches for him after raising enough money to buy him back and discovers the sordid world of animal abuse and trafficking.  The story will appeal to animal lovers and tug at their hearts.
Realistic Fiction                            Christine Massey, JWP Middle School