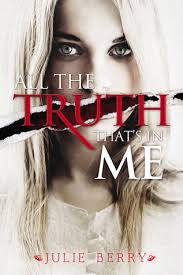 Berry, Julie. All The Truth That's In Me. New York: Viking, 2013. 978-0-670-78615-2. 288 p. $17.99. Gr. 9 and up.
The mystery of Judith Finch's life  is told in first person narrative completely within the main characters head.  Judith who has been missing for two years along with another young girl from Roswell Station returns one day from the woods just as mysteriously as she disappeared..  However, when Judith returns she is forever changed into a mute through the violent act of her tongue being surgically removed.  As a young woman in the 1800's she is illiterate and due to her disfigurement can not tell anyone what has happened to her or the other young girl who has since been found dead in the woods.  Upon her return Judith is shunned by the town and spends most of her time longing for the boy she loved prior to her disappearance, Lucas.  This relationship is strained because as Judith recounts her two year struggle it is revealed that Lucas's father was the one who held Judith captive and disfigured her to keep the atrocities she endured silent.
Historical (Colonial America), Mystery           Robin Burns, Salisbury High School
The premise of the story unfolds in layers as Judith recounts her two years in captivity.  Although there are several plotlines shared with the reader early on in the story there is an element of mystery throughout the book.  The voice inside Judith's head is poetic and tells of all the longing any young woman of that time period had for a life and family of ones own.  This book will appeal to fans of mysteries and shares similarities with the movie The Village because the readers never truly know what year the events take place.  This leads the readers to conclude the events are in the colonial times but perhaps this entire society exists outside the bounds of what is modern society and times of today.
Farizan, Sara. If You Could Be Mine. Chapel Hill: Algonquin, 2013. 978-1-61620-251-4. 256 p. $16.95. Gr. 11 and up.
Farizan's story is  a simple love story.  The love story told in poetic prose  is between two young people in Iran.  The only problem is that in Iran homosexuality is unlawful and for the two young women, Nasrin and Sahar, who have spent years together falling in love must now face the realities of adult life in Iran.  Nasrin's parents announce she is to be married through an arranged marriage and consequently Sahar poses a dramatic solution to their relationship.  Although illegal to be a homosexual in Iran it is legal to be transexual and the gender reassignment surgery is fully paid for by the government as a medically necessary procedure.  Sahar pursue gender reassignment even though in her heart she knows she does not want to be a man but loves Nasrin deeply enough to change her entire life.
Realistic                   Robin Burns, Salisbury High School
A heartbreaking story of love and longing.  This book depicts in great detail what it is like to live in modern day Iran and the struggles that young people in the LGBT community face in Iran.  A unique story that is a good addition to high school libraries looking to increase both LGBT and multi cultural fiction.  Although the book is brief in pages it is lengthy in depth and the description of life in Iran .
Lyons, C.J. Broken. Naperville: Sourcebooks, 2013. 978-1-40228-545-5. 336 p. $16.99 Gr. 9 and up.
Scarlett is fifteen years old and attending school for the first time due to a rare genetic disorder, Long QT, that causes her heart to beat erratically if she gets excited or overly stimulated.  Against her family's wishes Scarlett is finally able to attend school but unlike the television shows and books that have given her a glimpse of high school the real thing is not the same.  At school she is bullied and her overprotective stepmother, the school nurse only makes her stand out even more to her classmates.  One day Scarlett forgets her "vitamins" and begins a biology project about her health history these two events combine to unravel everything she has ever known about her  life.  This story is a coming of age story combined with the mystery of Scarlett's family and her "disease".
Mystery, Realistic              Robin Burns, Salisbury High School
Mysteries are difficult to find in the young adult genre and this title explores teen issues of love, acceptance, bullying, and what it means to be a family.  I enjoyed this story and kept turning pages to find out if Scarlett was really ill or if there was something more sinister to her medical condition.  Teen will keep reading as well to see if Scarlett finds love and if she finds out who she really is and what her family has been keeping from her for years.  My students have been checking out this title constantly and the word of mouth has helped it to become a much sought after title.
MacHale, D.J. SYLO. New York: Razorbill, 2013. 978-1-59514-665-6. p. 416 $17.99 . Gr. 7 and up.
The first volume in what is set to be a trilogy, SYLO, sets up the story of what happens to a small town when completely taken over by a government agency.  Tucker Pierce is a high school freshman living on Pemberwick Island off the coast of Maine dreaming of taking over the family landscaping business and playing weekly football games with friends.  All of that comes to an end with the U.S. Navy quarantines the island, people begin to die, citizens are placed into work camps at the local country club, and a division of the military, SYLO, takes over the entire town.  Tucker along with his love interest Tori begin to suspect SYLO, their parents, and the new superdrug Ruby might all be responsible for the bodies scattered all over the island.
Science Fiction            Robin Burns, Salisbury High School
MacHale's newest series is sure to be a hit with fans of his previous work and those who are looking for the next science fiction series.  Much in the manner of the X Files readers are unsure of what is real and what is just part of a conspiracy.  Students will eagergily keep reading to see if Tucker and his friends are able to get off the island and make it to the mainland.  The sequel, STORM, is already out in hardcover and is popular with my students.  I highly recommend adding this title to both middle and high school library collections.
McGinnis, Mindy. Not A Drop To Drink. New York: HarperCollins, 2013. 978-0-06-219850-1. 320 p. $17.99. Gr. 9 and up.
Life for Lynn and her mother has been reduced to those of the Wild West frontier following an outbreak of cholera.  A story of isolation and self reliance McGinnis explores what is means to be a survivor and how much can one person can take on when faced with repeated challenges.  Lynn must find someone else to rely on following her mothers death early on in the story.  Faced with poachers in the south and gangs of  men to the east Lynn must defend her homestead and protect what remains of her pond, the only clean water supply in the area.  All of the people who Lynn has know have died, and many at her own hands.  Her nearest neighbor is a mystery and with all of the poachers she is not sure whether to trust them or if they simply want her  pond.   As more poachers begin to arrive Lynn must turn to her only neighbor for support and to keep the water safe for survival.  The third person narration gives the story a gritty tone and puts readers into the mind of Lynn trying to survive all alone on the homestead.
Dystopian             Robin Burns, Salisbury High School
Readers who enjoy dystopian stories will find this gritty story both compelling and disturbing.  The story is similar to the television show Revolution in that the world has undergone a cultural and societal change thrusting everyone back to a frontiersman state.  I found this book to be a good addition to fiction collections looking for another option in the growing dystopian genre.  Although told in third person the story moves quickly and will keep reader engaged with Lynn's struggle to survive.
Moriarty, Jaclyn. A Corner of White. New York: Scholastic, 2013. 978-0-545-39736-0. 384 p. $17.99. Gr. 7 and up.
Moriarty's first volume in what is slated to be a trilogy is narrated by two fifteen year olds one a boy and one a girl.  The girl, Madeleine, is used to a privilege lifestyle living with her rich and eccentric father until somewhat mysteriously she and her mother run away.  They are forced into a life of hiding in near poverty conditions.  This means that Madeleine can no longer attend school and must be homeschooled in her tiny Cambridge attic apartment.  One day Madeleine notices a piece of white paper sticking up between a crack in the sidewalk and a parking meter.  The white paper is a letter from Elliot a fifteen year old boy in the Kingdom of Cello.  The Kingdom is fantastical land where Colors are living organisms that can kill people.  Elliot is looking for his father who disappeared suspiciously and through their letters in the crack between worlds Elliot and Madeleine develope a relationship.  Readers along with Madeleine will be confused by Elliot's world initially but will be drawn into the story of Cello in A Corner of White.
Fantasy (Fairytale)          Robin Burns, Salisbury High School
The story while told in two completely different worlds is one of teenagers trying to find themselves and make order of the confusing world's each reside in Earth and Cello.  The story is told between the crack through letter Madeleine and Elliot exchange.  Their communication explains to the reader what it is like in Cello but Elliot needs no explanation of our world since it is taught at a young age to all children in Cello.  Recommended for fans of fantasy and fairytale stories.
 Patrick, Cat. Just Like Fate. New York: Simon Pulse, 2013. 978-1-44247-271-6.  304 p. $16.99. Gr. 9 and up.
Caroline has been taking care of her grandmother since she suffered a stroke but the decision of whether or not to join her friends at a party one evening  sends her life in two very distinctive paths.  The book begins with "Before" explaining what has happened in Caroline's  life and how she came to live with her grandmother. The two alternating plots are set into the two later thirds of the book, "Stay" and "Go".  "Stay" recounts what happens if Caroline decides not to attend the party and instead stays by her grandmother's bedside.  This version includes a touching goodbye from her grandmother and final words of wisdom.  In "Go" Caroline attends the party and is not able to say goodbye to her grandmother or receive any parting words.  The consequences of both decisions are detailed and given the dual narrative readers are able to decide for themselves which of the two realities they would choose.
Realistic               Robin Burns, Salisbury High School
This book was one of my favorite realistic fiction titles of the year.  It reminded me of the movie Sliding Doors where one small decision changes everything else in a person's life.  Caroline's decision to attend a party may seem small but it sets off a chain of events in her life that alters everything in her future.  Readers who like Dessen and Colasanti will find enough romance to keep them turning pages and find out who Caroline ends up with in both "Stay" and "Go".