McMann, Lisa. Bang (Visions Book 2). New York: Simon Pulse, 2013. 978-1-4424-6625-8. 241p. $16.99. Gr. 9-12.
In her first book in the Visions series, Crash, McMann introduced readers to Jules Demarco, who suddenly started experiencing a recurring vision in which her Sawyer, the son of her family's business rivals (and Jules' secret crush) was tragically killed. Thankfully, Jules was able to stop this vision of the future from occurring, and in the process, she was able to develop a relationship with Sawyer. Now, just when things are beginning to get back to normal, the unexpected happens. Sawyer is now seeing recurring visions of his own. His visions are terrifying—he sees what appears to be a school shooting. Working together with Jules' brother Trey, Jules and Sawyer try to decipher the clues present in his visions and if possible, prevent the shooting event. At the same time, the teens also start to question the concept of the visions. Why are they receiving the visions? (Did Jules pass the power of having visions to Sawyer?) What obligation do they have to people they see in the visions?
Fantasy                       Elizabeth Henry, Lampeter-Strasburg HS/MS
Bang picks up the story immediately after the events in the previous book and never slows down.  As mentioned in the description above, the vision Sawyer experiences in quite upsetting and terrifying—a school shooting incident. Readers should be aware, as the nature of the visions is recurring; the shooting incident is described secondhand by Sawyer to Jules more than once. Some mature language is present in the visions. The story is not all about Sawyer's vision, however. Sawyer and Jules are also dealing with their developing romance, and both also are dealing with imperfect home lives. I also thought that the moral and ethical issues they began to deal with in relation to the visions were quite interesting. Why are the two of them having these visions? Is it due to genetics? (Jules is viewing some of her father's behavior in a new light). Do they have a duty to help the people in the visions? What will the consequences be if they don't (or can't)? And finally, has Sawyer passed the visions to someone else? Final note: I classified this a fantasy, because of the strong vision element to the story, but some may classify it Realistic (with fantasy/paranormal elements).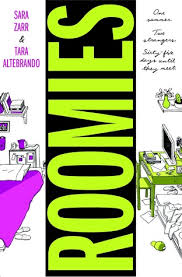 Zarr, Sara and Tara Altebrando. Roomies. New York: Little, Brown, 2013. 978-0-316-21749-1. 279p. $18.00. Gr. 9-12.
Incoming UC Berkley freshman Elizabeth (aka EB) is looking forward to moving away from her New Jersey home and starting the stage of her life. So when she gets her dorm assignment and her soon to be roommate's name, she immediately emails her. Lauren is on the receiving end of EB's email and is none too happy about it. After growing up as the oldest of six children in a crowded San Francisco home, she was looking forward to the single dorm room she had requested. So it is only natural that Lauren's initial reply to EB's email is a little frosty. As the summer days pass the two girls begin to communicate about more than just dorm refrigerators and microwaves. They open themselves up to one another in unexpected ways, on topics ranging from their complicated home lives to their complex romances. But just when it seems like the girls are headed for a harmonious roommate relationship, misunderstandings and hurt feelings threaten their new friendship. As move-in day approaches, EB and Lauren must decide if their fragile friendship is worth saving.
Realistic                          Elizabeth Henry, Lampeter-Strasburg HS/MS
Novels told in alternating chapters from the point of view of two protagonists can be tricky. One character may overshadow the other, or the melding of storylines can seem forced. Thankfully, that is not the case in Roomies. Zarr and Altebrando have developed two strong protagonists with relatable storylines and experiences. The concept of future roommates communicating with each other during the summer before college helps to weave the girls' storylines together in a natural and organic manner. In addition, it is a concept that virtually every college-bound students will be able to relate to. Recommend to high school girls preparing to graduate and getting ready to leave their comfortably familiar worlds behind as they move into an unknown future.
Walker, Landry Q. SuperGirl: Her first extra-ordinary adventure! North Mankato, MN: Stone Arch, 2013. 978-1-4342-4717-9. 26p. $21.27. Gr. 4-8.
Linda Lee seems like a typical new arrival in an 8th grade classroom. But in actuality, her name is Kara and she newly arrived to Earth from her home planet of Krypton in this first volume in the SuperGirl graphic novel series. After getting into an argument with her parents, Kara impulsively decided to hitchhike a ride on a message rocket being sent to Superman. Unfortunately, Superman does not have the powers to send her home, so she is stuck on Earth. She soon realizes that trying to adapt to the unfamiliar tween culture of middle school will prove to just a big a challenge (if not bigger) than fighting off villains with superpowers.
Science Fiction, Graphic Novel                     Elizabeth Henry, Lampeter-Strasburg HS/MS
The SuperGirl series offers a unique and welcome twist on the traditional Superman tale. It is great to see another graphic novel series that features a female protagonist. Even though she has superpowers, Kara struggles with the same everyday issues and problems that any average tween faces—her relationship with her parents, fitting in with your peers, etc. Upper elementary and middle school readers will find the story lines both relatable and filled with pieces of humor and action.