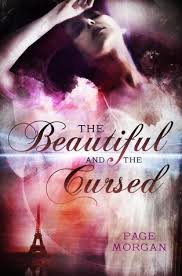 Morgan, Page. The Beautiful and the Cursed. New York: Delacorte, 2013. 978-0-385-74311-2. 341 p. $18.99. Gr. 7-12.
Seventeen-year-old Ingrid and her younger sister Gabby arrive with their mother in turn-of-the-century France to discover that Grayson, Ingrid's twin brother is missing. The girls are determined to find him, even after discovering that he was abducted by a hellhound and taken to the underworld. Fortunately, their new home is protected by Luc, a gargoyle who can also take human form. Gargoyles are powerful fighters, responsible for the safety of all the humans living on their property.  The sisters also have assistance from the Alliance, a group that has protected people from demons for generations. Danger, adventure, and romance ensue as the girls try to unravel the mystery surrounding Grayson's disappearance. Transformed into a hellhound, Grayson comes to steal his sisters back to the underworld for his demon master. Both gargoyles and Alliance fight for their rescue. In the end, Grayson is slowly becoming human again, Gabby is left with horrible scars but a budding romance, and Ingrid finally understands her strange powers while doubting that she will ever find love.
The author has created a complex world with well developed characters that will leave readers wanting more. This is the first book in the Dispossessed series. The second book, The Lovely and the Lost was published in 2014.
Fantasy, Adventure                Michelle Hankin, Sandy Run Middle School