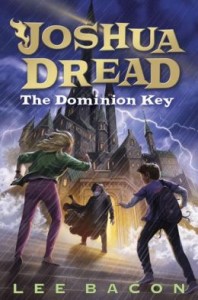 Bacon, Lee. Joshua Dread: Dominion Key (Book 3, Joshua Dread series). New York: Random House, 2014. 978-0-385-74382-2. 256 p. $19.99. Gr. 4-7.
This is the third book in the series about Joshua Dread, a boy born with super powers, the son of the supervillain Dread Duo.  Josh is away at Alabaster Camp for the "gyfted" when it is attacked by nFinity. Josh and his friends must beat Phineas Vex to the mysterious key which promises its possessor world domination. Readers who enjoyed Lightening Thief, Harry Potter and similar fantasy adventures will love the Joshua Dread series.  This fun read is full of humor and pithy one-liners while addressing themes of Good vs Evil and family loyalty, as well as vigilance.
Fantasy                                Robin Bartley, Davis Elementary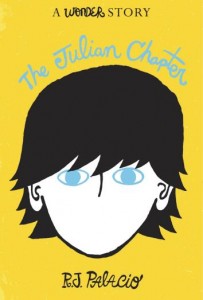 The Julian chapter: A wonder story. Palacio, R.J. New York: Alfred A. Knopf, 2014. eBook ISBN: 978-0-553-49908-7. [85 p.], $8.99, Reading/ Interest Level: Grades 3-7.
From the first meeting between Julian and Auggie in Wonder, it was quite clear it was not a going to be a friendship by any stretch of the word. The question remained how far would Julian go to be mean to Auggie. It became very easy to dislike Julian for his mean tricks and lack of remorse towards Auggie.  In The Julian Chapter, things become clear as the story is retold from the Julian bully standpoint. Julian tells the story but still doesn't think what he does is wrong and with his parents by his side defending his every move, one gets the feeling that Julian will never change. It is only through the summer, Paris, and his Grandmere, Julian finds the remorse he so desperately needs. Only available in ebook form at this time, the only reviews available were on Goodreads and it was rated 4.5 of 5 stars.
Realistic Fiction                    Lourie Stewart, Dunbar Township Elementary School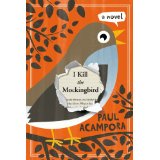 Acampora, Paul.  I Kill the Mockingbird.  New York: Roaring Brook Press, 2014.  978-1-59643-742-5. 166p.  $16.99. Gr. 4-6.
A book that inspires, a book that makes you think not only about books but about life.  A great alternative read to be paired with To Kill a Mockingbird, Harper Lee.   Their goal was to make people excited about reading the book, they figured if they made the book disappear people would want it.  It started out small and thanks to the World Wide Web it grew huge.  It is amazing what a little inspiration can create.  The author has created strong characters, which are smart, funny and still just kids.  Their personalities and strengths and weaknesses will be remembered long after the book is over and the discussions end.  It is a great book that is a fight over books and is sure to inspire many discussions.
Realistic Fiction                                                             Denise Naumann, Eisenhower Elementary
Osborne, Mary Pope. Soccer on Sunday (Magic Tree House series #52). 978-0307980533. New York: Random House, 2014. $12.99. 115p. Gr. K-3.
Just in time for the World Cup! Osborne does it again with another engaging mystery involving the world's favorite sport, soccer. Parents reading this aloud to emerging readers will enjoy the story too as it's set in 1970 Mexico City for the World Cup contest featuring one of history's best players, Pele. For those new to this series: no need to start at the beginning. Osborne does a great job bringing kids up to speed quickly about the Magic Tree House backstory. Just start reading anywhere and enjoy the ride!
Magic, Mystery              Kathie Jackson, Plymouth Meeting Friends School
Nonfiction companion:
Osborne, Mary Pope and Natalie Pope Boyce. Magic Tree House Fact Tracker: Soccer. 978-0385386296. New York: Random House, 2014. $5.99. 125p. Gr. K-3.
Mary Pope Osborne has teamed up with her sister Natalie to deliver a wonderful collection of paperback nonfiction companions to dozens of the Magic Tree House series titles, with more to come. This wonderful little book shows readers rules of the game with illustrations, photos and diagrams; gives history including discussing some of the game's greatest players; and a motherlode of resources for additional research at the end of the book. This is a fun way to draw your nonfiction-only early readers into fiction stories, or another great use would be to discuss all the research that goes into writing fiction!
796.334 Soccer              Kathie Jackson, Plymouth Meeting Friends School