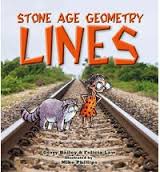 Bailey, Gerry and Felicia Law. Mike Phillips, Ill. Stone Age Geometry (6 book series). New York: Crabtree, 2014. $19.87 ea.
Stone Age Geometry: Circles. 978-0-7787-0507-9.
Stone Age Geometry: Cubes. 978-0-7787-0508-6.
Stone Age Geometry: Lines. 978-0-7787-0509-3.
Stone Age Geometry: Spheres. 978-0-7787-0510-9.
Stone Age Geometry: Squares. 978-0-7787-0511-6.
Stone Age Geometry: Triangles. 978-0-7787-0512-3.
Stone Age Geometry explores fascinating mathematical shapes through real world examples explained by characters Leo, the stone age genius, and his pet cat, Pallas. Readers (and Pallas) learn about geometric concepts as Leo and Pallas design brilliant and unique inventions throughout their mathematical journeys. The series includes circles, cubes, lines, spheres, squares, and triangles. In each book Leo's inventions reveal key vocabulary terms and important concepts of the geometry curriculum. Each book also includes glossary and various pictures, drawings, graphs, and charts to illustrate the shape and the concept of how it is used in everyday life.  This series is a valuable instructional resource to introduce new and unfamiliar concepts to students in a fun and educational way. Leo provides 15 informational lessons explaining concepts, real world examples, and pictures depicting each invention.  Although recommended for grades 5-8, this series is a fabulous resource for high school geometry classes and promotes reading across the curriculum.
Geometry (516)    Heather McQuiston, Teacher, Lincoln HS, Ellwood
                                 Erin Parkinson, Librarian, Lincoln HS, Ellwood City