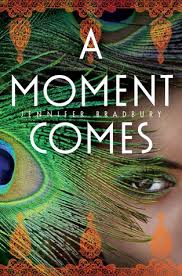 Bradbury, Jennifer.  A Moment Comes.  New York: Atheneum Books for Young Readers, 2013.  978-1-4169-7876-3. 288p. $16.99.  Gr. 7 and Up.
A Moment Comes is set in India during 1947.  Great Britain has given up its rule over the Country and is in the process of drawing the "Radcliffe Line", the border designed to create a new Muslim nation (Pakistan).  This is the story of Margaret Darnsley, whose father is a cartographer working on the border.  It is also the story of Tariq, a Muslim teenager who desperately wants to study at Oxford, and Anupreet, a young Sikh woman whose face was slashed in a mob attack.  Tariq and Anu are employed in the Darnsley household.  Anupreet is Margaret's maid and Tariq is Mr. Darnsley's assistant.  As one might expect, there is some romantic tension between the three teens.  Margaret believes she is in love with the exotically handsome Tariq, but Tariq finds himself drawn to Anu.  None of these relationships are realized, however; the cultural and religious barriers between the three are simply too high.
The strength of this book is in its depiction of the ever increasing conflict between Muslims and Sikhs.  India is a very dangerous place at this time, although the unrest hasn't really touched the people who are drawing the border.  The Darnsley's own precarious situation changes when a mail bomb is delivered to their house. Tariq intercepts the package (sent by his childhood friend, Sameer) and endangers his own life in the process.  Tariq becomes a man without a home; he refuses to join his family in Pakistan, an Oxford education seems impossible, and he is now an enemy to India's Muslim militants.  This novel's ending seems abrupt and somewhat unrealistic, but this book is still highly recommended.  It depicts a time and place in history that is rarely discussed.  Margaret, Anupreet, and Tariq are very relatable and students may see themselves in these characters.  This book would be a useful complement to the study of Britain's colonial history.
Historical Fiction (India, Mid-20th Century)   Susan Fox, Washington Jr./Sr. High School