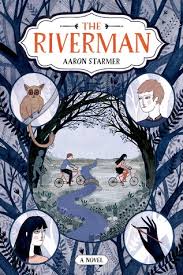 Starmer, Aaron. The Riverman. New York: Farrar Straus Giroux, 2014. 978-0-374-36309-3. 310p. $13.64. Gr. 8 and up.
Fantasy meets the real world when Fiona Loomis asks Alistair to write the biography of her life and what has happened to her recently. While the two were friends and neighbors when they were younger, Alistair hesitates to take on this task from the very odd not-so-typical girl next door. But when he begins to listen to her story, Alistair must put life as he knows it aside and decide if this girl is telling truth, or if she is mentally troubled. Is there a parallel world where Fiona travels to, where anything she wishes comes true? And if Alistair believes this, then he has to accept the idea of the Riverman, the being of the other world who has been snatching the lives of the children that live there. But if that's true, then it's possible the Riverman exists in this world too, and that all of their lives are in danger.
Fantasy        Nicole Starner, Biglerville HS/Upper Adams MS
This is the first book in what will be a trilogy – the second book The Whisper will be released in March of 2015. While the publishers recommend the book for students in grades 5 through 8, the difficult web of universes might be more suitable for older readers. Students who enjoy Neil Gaiman and his young adult fantasy/supernatural books will definitely enjoy Aaron Starmer.  I am eager to get my hands on an Advanced Reader's Copy of Book 2!