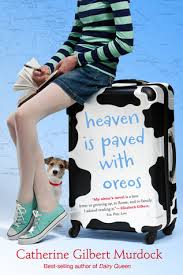 Murdock, Catherine Gilbert. Heaven is Paved with Oreos. New York: Houghton Mifflin Harcourt, 2013. 978-0-547-62538-6. 201 p. $14.49. Gr. 5-9.
In this companion to Murdock's YA novel Dairy Queen, Sarah Zorn is a science-loving, fourteen year-old, who just wants to spend her summer working with her best friend, Curtis, on their ninth grade science project, Boris, a decaying calf.  But instead of full-science-fair-focus, Sarah and Curtis must continue their "Brilliant Outflanking Strategy," their appearance to others, especially awful Emily Friend (or as Sarah likes to call her Emily Enemy), as dating for it's the only way Sarah and Curtis have figured out to not be made fun of for being best friends. In addition to keeping up appearances, Sarah's grandmother, Z, wants to take Sarah to Rome with her to celebrate her 64th birthday and re-visit a pilgrimage she took many years ago.  While in Rome, Sarah learns the truth about her grandmother, and her family, and realizes that perhaps the "Brilliant Outflanking Strategy" isn't so brilliant at all.  As Sarah deals with many teen realities of liking someone, friendship, enemies, and family, Murdock also provides a real outlet for students to consider-journaling, the format of the novel.  D.J. Schwenk (Dairy Queen) returns in this novel, but in a much smaller role.
Realistic         Erin Parkinson, Lincoln JSHS, Ellwood City
Having never read Dairy Queen, but knowing that it was a YA novel, I expected more from Heaven is Paved with Oreos.  Instead, I feel like a got a great middle school novel but wanted more.  This novel is a great portrayal of friendship, familial relationships, and the development of more romantic feelings as people grow up, but it lacked a bit of development with the story.  I liked the notion of Rome and why Z wanted to go and share her experience with Sarah, but I felt like it dropped the story as soon as they returned to Wisconsin.  I wanted more from this storyline because I felt that it was very important, but perhaps for the target audience it is not important.
This would be a wonderful novel for literature circles or independent reading because of the use of a journal.  The format allows readers to explore their own use of journaling to "figure stuff out" and share parts of them that they may not share with others.