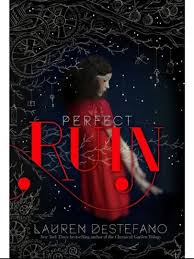 DeStefano, Lauren. Perfect Ruin. New York: Simon and Schuster Books for Young Readers, 2013. 978-1442480612. 368 p. $17.99. Gr. 9-12.
In this dystopian novel, the people of Internment live on a piece of land floating in the sky above the ground. Most citizens of Internment are content with their lives, but there are some who approach "the edge" in order to see what is beyond-or below. Morgan Stockhour's older brother attempted the jump, and though he survived he has changed and become withdrawn. The story begins with the murder of a young girl, a scarce event which shocks the population. Soon, excerpts from the murdered girl's school paper begin appearing, and these selections exhibit radical ideas about Internment. Morgan realizes the girl was a classmate of hers, and Morgan's curiosity about what is beyond the edge and her need to know the truth causes her to try to find out what truly happened to the girl. She soon discovers that Internment is not as idyllic as she was taught or led to believe. The story has some twists and turns that will keep readers interested until the end, and the first-person narration assists with the element of mystery as the readers discover with Morgan the secrets of Internment. Students who enjoy dystopian fiction and are looking for something to read after The Hunger Games, Matched, or Divergent will enjoy this title. The ending is a cliffhanger, so be prepared to order the next in the series as soon as it is released.
Dystopian          Lindsey Myers, Peters Township HS
I generally enjoy dystopian fiction, and love seeing how authors design unique, futuristic or parallel worlds.  There has, however, been an abundance of this type of fiction ever since The Hunger Games became such a popular series. Thus, it can sometimes be hard to find a novel that can contend with that excellent trilogy by Suzanne Collins, or even the Divergent trilogy by Veronica Roth (especially since these have become movie blockbusters!).  Lauren DeStefano does attempt to do that with Perfect Ruin, and succeeds for the most part. I can absolutely see many teens enjoying this series and being eager to read the next installment. The writing is solid and there are many quotable passages. There is a love story between Morgan and her betrothed, Basil, but the main focus of the plot is the mystery surrounding Internment's origins and why people are discouraged from approaching the edge.
I did recommend this book to a student who loved The Hunger Games and Matched, and she quickly downloaded it onto her Kindle to read. Since it has been difficult to keep any of the books from The Hunger Games or Divergent series on our shelves, I am eager to share this selection with other students and find out their thoughts on this new dystopian series. And whether or not they believe that it will join the line-up of numerous young adult novels being made into movies.