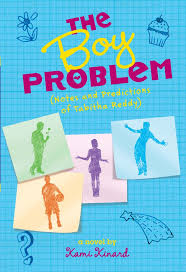 Kinard, Kami. The Boy Problem: (notes and Observations of Tabitha Reddy). New York: Scholastic, 2014. 978-0-545-57586-7. 256 p. $12.99. Gr. 5-8.
In this sequel to The Boy Project, Tabitha Reddy is obsessed with predictions.  Self-proclaimed nerd, Tabbi and her best friend, Kara, return in The Boy Problem to tackle a number of middle school problems.  Kara tends to be the sensible one in the pair, while Tabbi sees everything as a predestined sign.  Using her superstitions to predict the future, Tabbi depends on these tools to make things happen.  A "cootie catcher", fortune cookies, Magic 8 balls, and even a fortune teller at the fair—Tabbi seeks help in search of her next boyfriend. After a new math teacher assigns a probability project, a disappointed Tabbi is paired up with Pri, an exuberant cupcake queen in her Algebra class. While planning the project, tragedy strikes Tabbi's extended family in New England, and the girls use their probability project idea to help. Filled with cupcakes, love and friendship, this novel is an example of ­­­­friendships, quirky middle school students, and how to make a difference in the world.
Realistic Fiction         Brooke Gerlach, Manheim Central Middle School
The Boy Problem not only takes characters and places them in middle school conflicts, but also takes female characters outside of traditional, stereotypical roles and has them excel in Algebra.  The text is mixed with mathematical equations, creating word problems.  Even more, the friends brainstorm ideas and use technology to survey students.  In the same style as Wimpy Kid and Dork Diaries, Kinard appeals to the reader who needs to break up text with illustrations and examples. This book is a perfect step up for readers who enjoy those books.