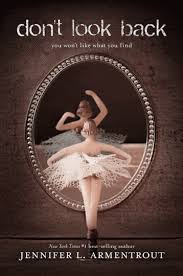 Armentrout, Jennifer L. Don't Look Back. New York: Disney Hyperion, 2014. 978-1–42317-512-4. 384 p. $16.99. Gr. 9 and up.
The mystery of what happened to seventeen year old Samantha is a matter of life and death, just not hers.  Best friends Cassie and Samantha both went missing on the same night, but police in a nearby park found only Samantha four days later.  Suffering from a severe concussion that has obliterated her memory and changed her personality, Samantha is the only lead to finding Cassie and what really happened that night.  Samantha is disgusted to learn that she is a mean girl at her high school, her so called friends really hate, and that she is nothing like the girl she wants so desperately to become.  Once Cassie's body is found Samantha is left wondering if she could have committed the murder and needing to know what really happened the night she went missing.  The only person Samantha trusts is a boy she barely knows, Carson Ortiz, but who knows the old Samantha and her wicked ways.
Mystery              Robin Burns, Salisbury High School
The story unfolds in layers as Samantha attempts to put together her life before the night she lost her memories.  Once her best friend's body is found Samantha wonders if she could have committed murder or if there is still a killer on the loose.  The plot is quick paced and fans of the Pretty Little Liars series will enjoy following Samantha's journey to find out who is out to get her and what she has done in the past to be their target.  Although not a must have title a good book to pair with other mystery fiction and thriller novels.