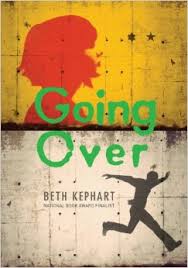 Kephart, Beth. Going Over. San Francisco: Chronicle Books, 2014. 978-1-4521-2457-5. 262 p. $17.99. Gr. 9 and up.
Ada, a teenager living in a divided 1980s Berlin, works at a day care center on the west side of the Berlin wall by day.  At nighttime, however, she leaves the tiny apartment she shares with her mother and grandmother in order to paint graffiti on the wall.  Her graffiti depicts images of daring escapes by East Germans to the west.  It is intended for Stefan, the boy she loves, who lives east of the wall with his grandmother and looks for her messages through a telescope as the two plan his escape.  The story is told in alternating voices; Ada full of hope that Stefan will one day join her in the west, and Stefan hesitant to risk his life for love.  The story is one of courage and hope even in the most desperate of times.
Historical Fiction        Julie Ritter, Montoursville Area High School
Although this book took me awhile to get into, I am glad I stuck with it.  The plot starts out rather slow, but picks up quickly towards the middle of the story as one of Ada's day care clients disappears and Stefan begins preparing for his daring escape.  Ultimately, the ending is satisfying.  Additionally, Kephart does an excellent job of portraying what life was like in 1980s Berlin as friends and families were separated by politics, and movement between the east and west was highly restricted.  She even includes an author's note at the end of the book that gives a brief history of the Wall and informs readers that some of her characters and escapes were based on actual people and events.  This would be an excellent choice for readers looking to learn more about the history of the Berlin Wall.  Fans of Elizabeth Wein's Code Name Verity and Rose Under Fire might also enjoy this story.