Alsaid, Adi.  Let's Get Lost. New York: Harlequin Teen, 2013. 978-0-373-21124-1. 352 p. $17.99. Gr. 11 and up.
Leila is seventeen years old and on the ultimate road trip to visit Alaska and see the Northern Lights.  Along the way Leila meets four teenagers who she attempts to help with their own issues.  The novel is broken up into five chapters with each character retelling their own backstory and accepting help from Leila.   Hudson is a young mechanic who fixes Leila's car in Vicksburg , Virginia, and after a brief romantic encounter, she leaves Hudson as suddenly as she drove into town.  In Kansas, Leila meets a young woman, Bree, who has been orphaned and is on her own road trip to find herself.  The two girls get into trouble with the law, but after a night of mischief, Leila helps Bree understand the importance of family.  Bree is reunited with her estranged sister and finds the importance of family.  Elliot meets Leila when she nearly runs him over in Minneapolis after being dumped at prom.  The two teenagers work together to prove Elliot's love for his unrequited love, Maribel.  The last teen, Sonia, has been stranded at the Washington/Canadian border and must now smuggle wedding rings across the border to help a friend in need.  The final chapter is Leila's story about her own lost love and the struggle to move on with life.  Leila is a mystery up until the last chapter with the first 4/5ths of the story told entirely in the third person point of view.
Realistic                 Robin Burns, Salisbury High School
Leila's story is slowly revealed through her interactions with the four very different strangers she meets during her cross-country road trip to Alaska.  The main character, Leila, is never the focus of the story, but instead acts as the catalyst for change in the lives of those she meets.  This title is recommended for grades eleven  and up because of the teens' reckless situations with driving, drinking, a night in jail, and no strings attached romantic relationships.  Fans of John Green's Paper Towns will find similarities with the story line and content but will enjoy the story for its own unique examination of a life.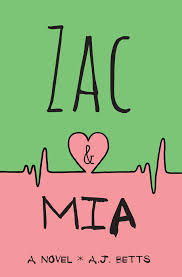 Betts, A.J. Zac and Mia. New York: Houghton Mifflin Harcourt, 2014. 978-0-544-331648. 304 p. $17.99. Gr. 9 and up.
Zac and Mia are two teenagers that are too old for the children's ward at their local Australian hospital, but the youngest people on the adult wing receiving cancer treatment.  Life outside of the hospital was very different for the two teens and without their treatments to bond them they would never have met let alone become friends.  The two teens start their friendship by tapping on their shared wall and carrying on Facebook conversations.  One day Mia disappears suddenly, and then reappears just as suddenly in Zac's life asking for his help.  During their time apart Mia has lost her leg to cancer and must re-enter the hospital for the infection that has spread but wants to take one final trip while they are both well enough to travel.
Realistic         Robin Burns, Salisbury High School
Readers who are fans of John Green's Fault in Our Stars will find similarities with the storyline and content but will enjoy the story for its own unique blend of romance and realistic fiction.  This book has recently been published but has already become a fan favorite at my local high school.  Students have shared that they enjoy the story while also learning about a different culture, Australia, and what teens in another country like to watch on TV, eat, and live their day-to-day lives.  A great addition and a must have for high school libraries looking for readalikes to Fault in Our Stars.
Han, Jenny. To All The Boys I've Loved Before. New York: Simon & Schuster, 2014. 978-1-44242-670-2. 368p. $17.99. Gr. 9 and up.
Lara Jean  has been in love.  She has been in love more than once.  Each time Lara Jean falls in love she pours out all of her feelings into heartfelt love letters but does not give those letters to anyone, especially her great loves.  Each time Lara Jean falls in love it is a crush and by writing her letters she is able to deal with her feelings. This has always worked for her until one day her letters go missing.  Lara Jean quickly learns that the letters were mailed, and when one of her crushes, Peter, reads his letter the two team up to mend both their broken hearts.  Peter has been unable to get over his ex-girlfriend, and Lara Jean is trying to ignore the boy next door, Josh, who used to date her sister, Margot.  Readers will be rooting for Lara Jean and all of her relationships not just with boys but her sister, father, and friends.
Realistic               Robin Burns, Salisbury High School
Jenny Han fans will not be disappointed with her newest novel and will eagerly await the sequel.  Lara Jean is a very likable character and is relatable to many teenage girls regardless of their own romantic lives.  The struggles she faces in life growing up half Korean, dealing with her mother's death, and the complications of teenage love are realistically depicted and relate-able.  Popular with fans of Sarah Dessen and Stephanie Perkins, this a must have for high school libraries.  The title is a good fit for romance and realistic fiction fans and would be a good addition for high school collections.
Kenneally, Miranda. Breathe, Annie, Breathe. Sourcebooks Fire: New York, 2014. 978-1-40228-479-3. 320p. $16.99. Gr. 11 and up.
The fifth installment of the Hundred Oaks series focuses on Annie picking up the pieces of her life after the sudden death of her high school boyfriend.  Annie resolves to run the Music City Marathon in memory of her late boyfriend, Kyle.  The training is hard, but dealing with her grief is even harder.  Six months of intense training has helped to get Annie physically ready for the race, but meeting her trainer's brother, Jeremiah, causes Annie to examine if she is mentally ready to race and move on with her life.  Readers will root for Annie to race and love again.
Realistic                Robin Burns, Salisbury High School
The series Hundred Oaks focuses on a different sport in each book and appeals to mostly female readers but gives enough sports background to keep all students engaged.  Kenneally has written several books in the last two years and all have been wildly popular with my students.  Annie is a strong female character and will be relatable to teens that have suffered loss of any kind.  A great addition and a must have for high school libraries in need of sports fiction.