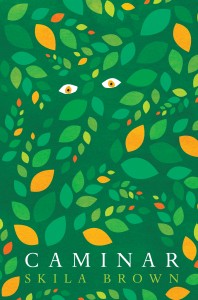 Brown, Skila. Caminar. Somerville: Candlewick Press, 2014. 978-0-7636-6516-6. $15.99. Gr. 7 and up.
Living in the small village of Chopán, Guatemala, Carlos was only a boy when the soldiers arrived.  Friendly at first, the soldiers soon issued a dour warning: the villagers were not to assist the rebel fighters in any way.  Later when the soldiers return, Carlos is in the forest; he does not see the destruction, the loss, or death.  Running blindly up the mountain, sleeping in trees at night, hiding from the army while attempting to reach his abuela, he stumbles across a band of rebel guerrillas.  He travels with them, enjoying their friendly banter, but he's too afraid to reveal his secret, carrying a guilt that burns in his soul.  He has lost everything.  When the helicopters return, the sound awakens Carlos.  He dashes into his abuela's mountain village and leads the people into the safety of the trees.  His courage may save a village if this ingenious young boy can harnesses an inner strength to protect his compatriots in a war that is not his.
Based on true events, Skila has written a compelling story about a young boy attempting to become a man.  For forty years, Guatemala had been trying to resist unfair laws penalizing the poor farmers in rural areas all over the country.  Bands of guerrilla rebels fought back, surviving in the mountains by hiding and accepting any generosity from local villages.  Feelings about the war varied from indifference to a fierce loyalty to the rebel forces or a fear of the army who would crush anyone aiding or assisting them.  Carlos desires to become a man and thinks he should fight alongside the other men, but his mother advises him to run at the first sign of fighting.  When he heeds her advice, he find himself alone, questioning his actions.  Written in a beautiful verse, lines emanate the pain, suffering and ultimate gratification of those who survived.  The casualties of war took many innocent lives and changed the survivors forever.
Historical Fiction (Verse)               Christine Massey JWP Middle School