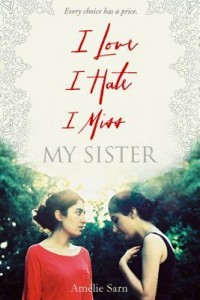 Sarn, Amelie. I Love I Hate I Miss My Sister. Trans. Y. Maudet. Delacourte Press, 2014. Print. 978-0385743761. 160 p. $15.99. Gr.11-12.
Amelie Sarn's short novel about two Muslim sisters living in the projects in France is an engrossing story that will linger in the mind of the reader long after the story has ended. The author notes that it was inspired by the murder of a young Muslim girl in France in 2002.  Written in the first person point of view of one of the sisters, Sohane, the story jumps back and forth between the events leading up to the death of the other sister, Djelila, and the present. Sohane had a typical love/hate relationship with her outgoing sister. Sohane is the quiet and more studious of the two and often cannot identify with her sister. While Sahone tries to embrace her Muslim identity, Djelila seems to want to break free from the life her Algerian-French family wants for her. Sohane is especially enigmatic.  The reader grapples with defining Safone as an individual, which perfectly reflects how Sohane views herself- as an enigma of sorts, with multiple personas based on her current environment, be it  at school, home, or on the bus. Her personal identity struggle reflects what many teenagers experience at various times. Sahone decides that to fully represent her faith she wants to wear a headscarf to school, even though this is illegal in France and causes problems for her. Djelila, meanwhile, becomes a target for young men living in their projects who are offended by how Djelila acts and dresses and begin following her.  Due to the violent nature of Djelila's death and the serious subject matter, I recommend this title for older, more mature teens who can understand the differences between moderates and fundamentalists in any religion. There is an author's note and glossary included, and these assist with the understanding of the novel.
Realistic        Lindsey Myers, Peters Township High School
When I finished reading this book, a friend asked me what I thought of it. Immediately, I said that while it was a difficult read, it is one that I feel is important to share with teens in the United States. It can sometimes be hard to understand religious persecution in our nation, where we value our freedom of religion. I was, however, apprehensive about sharing this text with teens because I did not want them to come away from it with a negative view of the Muslim faith. It is important for teens to see that there are moderates and fundamentalists in every religion, which is why this text is for teens who have matured enough to realize that fact and understand that one violent group does not represent an entire people or faith. I did book-talk this book for students, but primarily Honors English 11 students. It is an approachable book because the chapters are so short and the novel itself is brief. The plot grabs you from the beginning and the reader finds her heart breaking for the quiet Sohane. She is a typical teenager trying to define who she is and how she fits into her world, and many teens will relate to her story, especially those who are wary of following in the path that has been laid out for them. This would be an excellent story to spark conversation about religious tolerance as well as religiously-based violence against women, which is something the author mentions in her note at the end of the novel. I look forward to hearing what students have to share after reading this text.