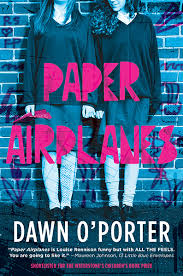 O'Porter, Dawn.  Paper Airplanes.  New York: Amulet, 2014.  978-1-41971-184-8.  254 p.  $16.95.  Gr. 9 and up.
It is 1994, and Renee and Flo are 15-year-old classmates at an all-girls school in Guernsey, a small island off the coast of France.  Although they haven't spoken much in past years and seem to be complete opposites – Renee outspoken and unconcerned with her studies, and Flo quiet and studious – the two form a strong friendship as the school year progresses.  This friendship is threatened, however, when Renee starts keeping secrets and withdrawing from Flo.  Told through alternating first-person narrations, the story is infused with a bit of humor and plenty of realistic situations that every teenager faces at some point or another.  It is a quick read that will resonate especially with young women.
Realistic Fiction                    Julie Ritter, Montoursville Area High School
This book was a fast, easy, and enjoyable read that accurately portrayed adolescent friendship.  There was, however, a great deal of English slang that might confuse some students.  Cigarettes are referred to as fags, pants as knickers, making out with boys as snogging, and so forth.  This slang and the humorous voice with which the story was told reminded me of Louise Rennison's works.  Another thing to note about the book is that there are some graphic scenes dealing with both sex and menstrual incidents.  It might be a book more suited for mature readers.