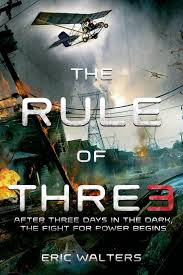 Walters, Eric.  The Rule of Three. New York: Farrar Straus Giroux, 2014. 978-0374-355029. 405 p. $17.99 Gr. 5-12.
Adam Dailey and his best friend, popular procrastinator Todd, are bantering in study hall one morning, Adam doing most of the work, when the power goes out.  Immediately, everyone notices that cell phones are affected, then basic needs like electric.  School's out, but few can leave because the computer systems of modern cars have been hit as well.  For once, Adam's '79 Omega brings him great pride as one of the few drivable cars.  Adam hates that his dad was traveling since he suspects there's more to the story than simple power outage, and he's correct. (By the end of book one, we still haven't heard from his dad.)  Retired neighbor Herb acts with skills and knowledge that show his government job likely involved more than the "paper pushing" he's always described.  With Adam's mom as the police captain and Herb as the forward-thinking planner for basic needs, safety, crowd control, and more, Adam is well-placed to survive and to have an influence on the future of his neighbors and his world.  Adam's and Todd's humorous exchanges cover a deep friendship not seen often enough in literature. Adam's and Herb's relationship—Adam the youthful optimist and Herb the jaded pragmatist—quickly becomes one of mutual respect (Adam has the pilot's knowledge for the ultralight he and his dad were building).  Adam's growth as a young man making life-altering decisions is well-done, as are the detailed steps for rebuilding and securing a world forever changed.  Slow-paced, though with much action by the end, as the neighborhood has mostly banded together and works to resist serious attacks from outside.  Excellent as a survival story without the dystopian effects, of interest to preppers and those interested in military or police response.  Book 2 of the series to be published January 20, 2015.
In our high school, readers were drawn to this book by the cover, and fans of The 5th Wave and dystopian tales have been interested as well.  One reader compared it to Under the Dome and Jericho television series.
Realistic Fiction (Adventure/Survival)         Melissa Scott, Shenango High School