Greenhut, Josh, Macky Pamintuan, and Jeff Brown. Escape to California. New York: Harper Collins, 2014.78-0-605-83120-9. 101p. $13.00. Gr 2-3.
Here we go again, another fun and humorous adventure for Flat Stanley lovers. Flat Stanley is now in the middle of San Francisco when he is kidnapped by a girl name Lily Fox. Lily Fox wants Stanley to help her escape Alcatraz prison, something no one has ever done before. Through the ups and downs of their wild adventures and crazy schemes, you as the reader will want to read more. Sit back and enjoy Stanley and another great adventure!
Fantasy                                   Jenn Roth, Lincoln Elementary (Gettysburg Area School District)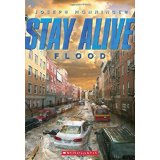 Monninger, Joseph. Stay Alive, Flood. New York: Scholastic Inc., 2014. 978-0-545-56359-8. 202p. $6.99. Gr. 2 and up.
This book was adventurous and suspenseful all at the same time. The characters were nicely developed which added to the scenario tastefully. The book shows the meaning of survival as a group of kids find ways to help each other during the flood. They are out of all items needed to survive such as housing, water, food, etc. The book is the fourth one in the Stay Alive series. It will keep you and your readers on their toes from the beginning to the end.
Historical Fiction                   Jenn Roth, Lincoln Elementary (Gettysburg Area School District) 
This series is wonderful to recommend to any students who have read the "I Survived Series" by Lauren Tarshis. It has the same level of suspense and adventure. My students enjoyed the entire series and are looking for more to come in the future.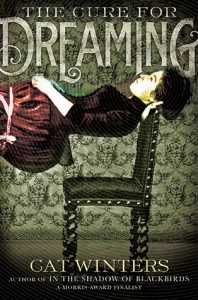 Winters, Cat. The Cure for Dreaming. New York: Amulet Books, 2014. 978-1-4197-1216-6. 368 p. $17.99 Gr.  7 and up.
Olivia Mead is a young woman who rebels against her strict father by joining the woman's suffrage movement.  In an attempt to control his daughter he hires a hypnotist to hypnotize her into a more docile and controllable woman. The handsome young hypnotist does as the father requests, in a way. Olivia now has the ability to see the world for what it really is, the beautiful people become into monsters as their selfish desires manifest, and the good people become even more beautiful as their kindness shines.
Historical Fiction                Kelsey DeStevens, Harris School
The Cure for Dreaming is a wonderful novel that truly shows the evils of conformity and how the traditional idea of what a woman should be only harms society. Readers will be attracted to the cover and the archival photos in the book. There is a romantic entanglement, but the story is more about Olivia and women's rights. This could work for historical fiction fans but also fantasy fans as the hypnotism takes on a mystical approach.
Burns, Laura J. Bewitched in Oz. North Mankato: Stone Arch Books, 2015.  978-1-4342-9207-0. 255 p. $27.48. Gr. 4 and up.
Zerie Greenapple lives in Oz where Princess Ozma rules the land. When Zerie is young she discovers that she has the ability to move extremely fast, however magic is outlawed in Oz so her family discourages it. Their decision to ignore her magic does not sit well with Zerie and she continues to practice her magic with two of her friends from the village. During one of her magic practices one of her friends is kidnapped. This prompts a journey to try and save her and protect their families.
Fantasy         Kelsey DeStevens, Harris School
Freeman, Martha.  The Orphan and the Mouse.  New York: Holiday House, 2014.  978-0-8234-3167-0.  220 pages.  $17.99.  Grades 3-6.
Those with experience in children's literature will understand that there are two major popular themes for children's story classics merging together from the titular characters.  Orphans make great sympathetic characters for children, and a mouse can be just the plucky underdog for kids to appreciate.  The general plot splits time between an orphaned girl named Carolyn who lives in an orphanage with plenty of dirty secrets and a clever mouse named Mary who is about to be outcast from her society within the walls of the same building.  In parallel fashion, the reader hears and sees the greedy problems from authority that drive both of their worlds to peril, and eventually leads to the girl and mouse relying on one another for redemption.  Freeman has reinforced the value of friendship, dreams, reading, teamwork and other big ideas which are worth fighting for.  We see how reading changes the lives of two mice who think beyond the ordinary; and how a girl can only be held down by a false history for so long until her true value and nature shines through.  This pair meets several times, but their final meeting was perfect: "For a moment, mouse and human regarded one another with all of the kindness, goodwill, and curiosity available to their respective species.  Neither would ever understand the other.  Each believed it was worthwhile to try."  Honestly, The Orphan and the Mouse is a worthwhile read in every way!  It has short, quick paced chapters with plenty of cliff-hangers to keep reluctant readers and read aloud listeners driven to keep going.  It is a classic serial story, harkening back to when comics, radio shows, and newspapers held the imagination of the populace with small doses.  That brevity also shows in illustrations by the great David McPhail at several key moments.  In short, it deserves a place in "mouse-book immortality," as it emotes big ideas wrapped in a small treasure… waiting to be opened!
Fiction – Historical            Dustin Brackbill State College Area School District
Adler, Irene. The Soprano's Last Song ( Book 2, Sherlock, Lupin and Me).  North Mankato:  Stone Arch Books, 2015. 978-1-4342-6522-7. Grades 4-9.
Irene Adler's life in Paris is about to be disrupted by the advancing Prussian army.  As she and her father flee Paris for London, she writes to let her friends Sherlock Holmes and Arsene Lupin know that she is coming to their city.  While in London, Irene and her father attend the opera starring the great soprano Ophelia Merridew and the famous composer Barzini.   Irene and Sherlock meet, but Lupin does not meet them at first.  When he finally arrives, he tells his friends that his father has been arrested for the murder of Barzini's assistant.   The three young friends set out across London to solve the murder and clear Lupin's father 's name.  In the midst of the investigation, Ophelia Merridew is now missing.  Will the friends solve the mystery in time, or will Lupin's father be put to death?
This was a great introduction to the world of Sherlock Homes for the young reader.  Much of Sherlock's thinking and reasoning, as well as his quirky ways are portrayed well.  Young Irene is also spunky and very intelligent and keeps the two boys in line, while often solving a piece of the puzzle first.  Their friendship, and an underlying attraction keeps readers guessing. The spooky settings of some of the scenes will grab the reader without being too graphic.   My 4th-9th graders would enjoy this book for its readability, action and connection to the famous Sherlock Holmes.  I definitely want to read the rest of the series!
Fiction/Mystery               Donna Fernandez, Calvary Christian Academy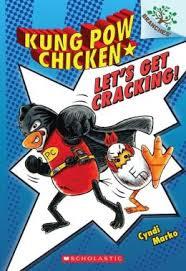 Marko,Cydi. Kung Pow Chicken: Let's Get Cracking! ( Kung Pow Chicken series book #1 ) New York,       Scholastic, Inc., 2014. 978-0-545-61061-2. Grades 1-3.
After falling in a vat of bubbling toxic sludge at his uncle's lab, average second grade chicken, Gordon Blue and his baby brother Benedict emerge with super powers.   He makes a super suit and creates his super personae, Kung Pow Chicken! Together with his brother/sidekick, Egg Drop, they set out to fight bad guys.  When the boys take a school field trip to the Fowl Festival, Gordon's tail feathers begin to tingle… a sure sign that something is wrong. Suddenly, feathers are dropping off of the chickens at the festival!  After a quick change in the porta-potty, Kung Pow Chicken emerges and follows a trail of glowing cookies and naked chickens to piece together the answers to the mystery!
This book was a GREAT highly graphic early chapter book!  The visually fun pages are a mix of word bubbles and paragraphs that will keep the young reader entertained and coming back for the next book. Adults and teachers will enjoy the puns ( chicken )Gordon Blue, and (eggs) Benedict, the Empty Nest Old Yolks Home and more!  A super fun book that will fly off the library shelves!
Humor/Graphic Novel                                                  Donna Fernandez, Calvary Christian Academy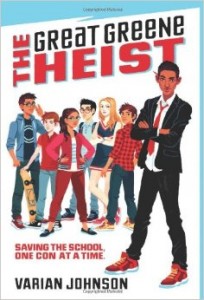 Johnson, Varian. The Great Greene Heist. New York: Scholastic, 2014. 978-0-545-52552-7. 226 p.  $16.99. Gr. 5-8 .
Middle school student council elections are a big deal and strange things are happening in the election process. Keith suddenly will be running against Gaby for student council president, even though he missed the deadline. Gaby is a skilled basketball player and has many ideas to better the school community while Keith just steals her ideas because he thinks serving as student council president will help his favor of acceptance into a private fancy school. What Jackson learns is that Keith's wealthy father was seen going into the principal's office and the student helper thought he was offering a generous donation so Keith becomes the student council president. Sixth graders know about the legendary schemes of infamous Jackson that led to an interruption with his friendship to Gaby, but can Jackson build a group to help ensure that the right candidate wins due to a fair election? The novel contains many short sections serving as a great read aloud for a class novel. Different connections to Star Trek, Star Wars, Windows Vista, baseball relievers, and Transformers are included throughout the novel and are further explained at the conclusion of the novel. Student council representatives could read and discuss this novel as a group with advisors and take a closer look at their policies and the way money is allocated to various clubs and extent discussion to state and national elections.
Fiction, Middle School/Elections                              Beth McGuire, Wendover Middle School
Watson, Jude. Loot: How to Steal a Fortune. New York: Scholastic, 2014. 978-0-545-46802-2. 266 p.  $16.99. Gr. 4-8.
Twelve year old March has moved around a lot and his schooling is lacking, primarily due to his father's heist schemes around the globe. In Amsterdam his father falls during a robbery and perishes. While March tries to flee the scene, he is eventually identified and flown to upper New York for foster care. A big surprise is that he learns he has a twin sister, Jules. While in the shady living situation, they watch a television show about the heists his father accomplished and learned their mother died as a result of one of the jobs. They were only two years old at that point. Shortly after, Jules escapes and March along with the Izzy and Darius, the other two young adults at the facility, dash away to find her. Their journey leads them to New York City and San Francisco in an attempt to find all seven moonstones for a seven million dollar payout from a wealthy socialite. As they continue their quest, the twins wonder if their father really fell off of the roof. Watson's novel received a star review from Publisher's Weekly.
Fiction, Mystery, Orphans                                       Beth McGuire, Wendover Middle School
Engle, Margarita. Silver People: Voices from the Panama Canal. Houghton Mifflin Harcourt. 2014. 9780544109414. 272 pages. $17.99. Ages 9-14.
This powerful historical fiction book that is written in verse chronicles the building of the Panama Canal and those that were willing to sacrifice everything for a better life. The author gives a voice to everything, including the trees and animals in the forest. Through their 'voices', the reader learns that not only were the workers mistreated, but everything around the building of the canal was affected. It is a very powerful read that teaches history and diversity, which would make great classroom discussion.
Historical Fiction/Diversity  Krista Goodzinski, Mars Area Centennial School

Mora, Pat & Libby Martinez. I Pledge Allegiance. New York: Alfred A. Knopf, 2014. 978-0-307-93181-8. 36 p. $16.99. Gr. K-3.
I Pledge Allegiance is the story of a Libby and her great-aunt Lobo, a Mexican-American immigrant, who are both learning the Pledge of Allegiance. Libby needs to practice because she has been asked to lead her school class in the pledge, while Lobo is practicing to say the pledge at her naturalization ceremony, having just passed the American citizenship test. This story explains a bit of the history surrounding the pledge, as well as some of the more complicated words and definitions. An author's note in the back explains that Lobo was a real person and tells a bit about her story. This book would be a great introduction to the pledge for young students or an excellent book to read when studying America or immigration.
The illustrations are one of my favorite parts of the book. Libby Martinez has a warm and friendly style that easily shows the love of the family. This story would be an excellent read in schools with a large Spanish-speaking population as the family is Mexican-American and the book is peppered with Spanish words, but it will be easily enjoyed by all audiences.  A great choice!
Easy Fiction                     Lindsey Long, Nye & Conewago Elementary Schools
Bracken, Beth. Hidden Things (Faerie Ground series). 978-1434291851. N. Mankato, MN: Capstone, 2014.  $22.65. 96p. Gr. 3+.
Bracken adds 4 more volumes to her popular Faerie Ground series. These appealing little low-level/high interest readers are perfect for middle grade struggling or reluctant readers as well as voracious readers who just want to gobble up some spooky fun.  Soli and Lucy are best friends who live at the edge of a mysterious and eerie woodland. In the first book they decide to go into the woods on an adventure and all sorts of family secrets emerge! These are episodic tales, best to be read in order. Beautiful, lifelike gothic-inspired haunting illustrations complement the parchment-like paper and fit-in-your-palm sized volumes. Girls in my middle grades LOVE this series, I can't keep them on the shelf!
Fiction, Magic/Fantasy, Fairies   Kathie Jackson, Plymouth Meeting Friends School