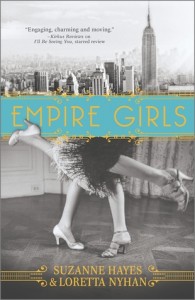 Hayes, Suzanne, and Loretta Nyhan. Empire Girls. Don Mills, Ont.: Harlequin MIRA, 2014. 978-0-7783-1629-9. 285 p. $14.95. Gr. 10 and up.
Growing up in sleepy upstate New York, sisters Rose and Ivy Adams always found themselves at odds. Twenty-two year old Rose is a homebody who wants to spend her life at the idyllic family estate, while headstrong 21-year old Ivy longs for the excitement of New York City. It is the height of the Roaring Twenties, after all! When their father passes away suddenly, leaving the estate to a previously unknown half-brother, the girls travel to the city with only a photo to guide their hunt for the mysterious Asher Adams. Ivy is ecstatic to finally be in the heart of the city during the steamy summer of 1925, "letting [her] sister tag behind like a tin can bouncing from a newlywed's bumper." They rent a room at the Empire House, landing smack in the midst of a colorful cast of characters who seem to know more than they are letting on about Asher and his whereabouts. In alternating chapters, Rose and Ivy dive into New York City's lively speakeasy scene and find first love where they least expect it, testing the bonds of sisterhood and family along the way.
Historical Fiction (1920s); Romance   Amy Pickett, Ridley High School
I learned about Empire Girls through a Booklist webinar, and it immediately appealed to me as a crossover title that might have strong teen appeal. The main characters are already in their early twenties, but they are also leaving home for the very first time. Although historical fiction is usually a hard sell with my students, the Prohibition era is among the more appealing time periods (speakeasies, flappers, and jazz do sound awfully fun). Both sisters fall into intense but sweet romances, but the book is not explicit, which sets it apart from so many "new adult" titles out there. It is a gentle, if slightly predictable, historical romance that will appeal to fans of the TV show Boardwalk Empire. I am excited to booktalk it with students in grades 10 and up!