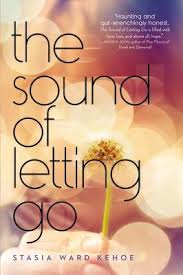 Kehoe, Stasia Ward. The Sound of Letting Go. New York: Viking, 2014. 338 p. $16.99. Gr. 8+.
Daisy is a dutiful daughter, a trumpet prodigy, and responsible sister. All around good girl, Daisy does what she is asked, even when she would rather be elsewhere.  When she finds out her parents arguments are centered around whether or not to send her younger autistic brother, Steven, into a group home with caregivers who can manage his violent outbursts, Daisy gives up being a good girl and begins to descend into bad girl behavior missing jazz band practices, skipping school, drinking, and making out with boys. Her parents, who are preoccupied, rarely seem to notice Daisy's misbehavior. To make Daisy's life worse, she  secretly lusts after her childhood friend, Dave.  When Cal O'Callum, an Irish exchange student, shows up at jazz band practice, Daisy finds herself intrigued.  Told in verse, The Sound of Letting Go is an example of the voice of those children who are truly dealing with a sibling with disabilities and the abandonment that their siblings often feel.
Realistic Fiction, Verse    Brooke Gerlach, Manheim Central Middle School
Daisy is a character who resonates with students today.  She has spent her life learning the rules surrounding her brother's specific idiosyncrasies becoming another parent to her brother. This novel brings Daisy's guilt over wanting to be acknowledged as a part of her own family to the surface. Students who have always strived to meet their parents' expectations will hear their own voice in this novel. Because of its verse, this novel is easy read and infused with romance. Educators and anyone working with children will have a new perspective on siblings of kids with autism after reading this novel. Excellent example of a narrative told in verse.