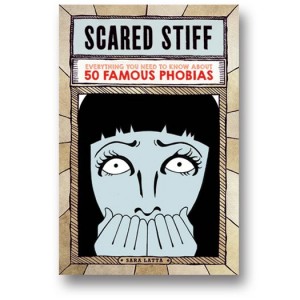 Latta, Laura. Scared Stiff: Everything You Need to Know About 50 Famous Phobias. San Francisco, CA: Zest Books, 2014. 978-1-936976-49-2. 224 p. $12.99. Gr 6-12.
Latta's fun and educational book covers many common phobias- from a fear of heights (acrophobia) to a fear of witches (wiccaphobia), and everything in between. Readers are treated to an introduction to phobias and learn interesting facts like where the term generated and how phobias have been shaped by our history and culture. Individual passages on specific phobias are informative without being lengthy, giving readers a factual guide to the term, while also providing sections of historical quotes, famous phobia-afflicted people, and fun,  illustrations. This guide will be a wonderful addition to any health and medical section and can be given to science readers or students looking to find some perspective, history, or trips to overcome phobias.
616.85225; Neuroses; Phobic disorders    Vicki Schwoebel, Friends' Central
We currently have all 8th grade science classes participating in SSSR- sustained silent science reading- in the library on Wednesdays each week. This means the entire 8th grade visits the library with their class, and reads a nonfiction book related to science that they (hopefully) find interesting. I do book talks at the beginning of each block, and students have such a wide variety of interests that I'm constantly looking for science/medicine/health books that will appeal to 13/14 year olds.  Plus, we did an extensive weeding of our 500s last year, so that area in particular is in need of some TLC.
Scared Stiff was something I thought would appeal to 8th graders, as well as other middle school classes who also do research projects on different diseases in health, (topics include anxiety). I LOVE this book and have already book talked it for the science class; it was checked out that day. It is written in a format that's accessible to children and adults and broken up in a way that's interesting, who doesn't want to know the phobia Madonna has (you'll have to read the book to find out)?! I think students often read to see themselves in books and to find some normalcy in something they might question or not understand, so I like that this is a non-judgmental way for students to see that phobias are totally normal, and have been normal throughout our history and culture.