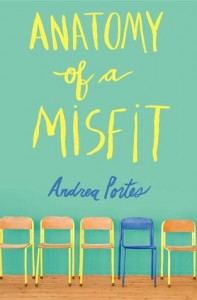 Portes, Andrea. Anatomy of a Misfit. New York: HarperTeen, 2014. 978-0-06-231364-5. 328 p. $17.99. Gr. 9 and up.
On the outside, Anika Dragomir looks like she could be made of vanilla pudding and apple pie. But on the inside, she is spider stew. At least, that's how this third-most-popular girl in high school sees herself. Anika got her unique looks and her dark side from her Romanian father, and in 1980s Lincoln, Nebraska, she stands out in a crowd. Whether she's making snarky comments about her best "frenemy" Becky, slowly poisoning (and stealing from) her boss at the Bunza Hut, falling for cute misfit Logan McDonough, or simultaneously falling for even cuter scam artist Jared Kline, Anika keeps her real feelings under wraps so she can maintain her top social status. But glimpses of Logan's miserable home life and the consequences of her actions at work wake Anika up to the importance of following her heart even when it doesn't take her down a popular path. Intermittent, dreamlike chapters of Anika "pedaling fast, fast, fast" toward an impending tragedy add urgency to the novel's pacing. This YA debut by Andrea Portes, based on her ninth grade year of junior high, is a biting, harrowing, ultimately heartrending view of high school from inside the in-crowd.
Realistic Fiction         Amy V. Pickett, Ridley High School
Anatomy of a Misfit was the featured Big Library Read (http://biglibraryread.com) title this October. It has been described as Mean Girls meets The Perks of Being a Wallflower, and this is both a very fitting description and a great way to introduce the title to teens. There's a bit of rough language, which makes this book appropriate for 9th grade and above. After reading this novel, I am definitely looking forward to the next YA book from Andrea Portes!