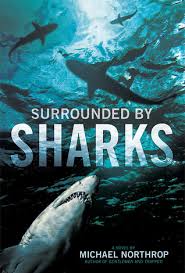 Northrop, Michael. Surrounded by Sharks. New York: Scholastic, 2014. 978-0-545-61545-7. 208p. $17.99. Gr. 5-8.
Davey feels trapped; he's stuck sleeping on a cot in a hotel room shared with his parents and younger brother while on a family vacation to an island resort.  So, when he awakens early, he decides to slip out to explore the island.  Finding a secluded beach posted with a "No Swimming" sign, he relaxes with his favorite book. Tempted by the waves rolling ashore, he decides to walk along the beach.  Wading isn't swimming, he rationalizes.  However, as he walks through the waves, Davey wades too far, is captured by a rip current and is swept out to sea.  Clinging to an empty water cooler bottle, Davey strategizes about how to return to shore or attract the attention of passersby.  Soon, he has a bigger problem—a much bigger problem.  He has attracted the attention of several sharks.  Meanwhile back on shore, his family, resort officials, fellow vacationers and the police are all engaged in a search for Davey.  Will they realize where he is?  And if they do, will they reach Davey before the sharks make their move?
Realistic Fiction; Adventure      Elizabeth Henry, Lampeter-Strasburg HS/MS
Surrounded by Sharks is more than just a pulse-pounding suspenseful story pitting boy vs. shark.  Chapters alternate among several points of view:  Davey, Brando (Davey's younger brother), Drew (a British teen staying at the resort with her family), and the tiger shark stalking Davey.  This narrative technique increases the tension and suspense as readers experience Davey's stress and fear, Brando's growing worry for his brother, and Drew's increasing interest in locating Davey.  Northrup uses the chapters told from the point of view of the tiger shark not only invoke a sense of danger closing in on Davey, but also to impart knowledge and scientific facts about species.  The chapters are short and easily keep the attention of the reader, making this an appealing choice for reluctant readers.