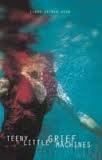 High, Linda Oatman. Teeny Little Grief Machines. Costa Mesa: Saddleback Educational, 2014. 978-1-489-84162-9.  $15.99. Gr. 9-12.
"Sexy Lexi" finally finds her voice.  In this novel, Lexi is a caregiver to her 8-year-old brother with autism, a stepdaughter to bipolar, chain smoking Tanya, sister to three-week-old ghost, Carissa Grace, and daughter to an incarcerated-once-again father. Isolated from everyone she loves, Lexi searches for a way to connect.  Grasping, she begins to drown in the isolation, cutting herself, smoking marijuana, and finally, breaking down in front of everyone at school.  Hospitalized after the episode, she begins to come into who she is and own who she is.  Linda Oatman High creates a character who readers are able to invest their empathy and sympathy.  Doubting why people are born to live lives filled with despair, Lexi floats in and out of self awareness, finally fitting into herself.
The novel is a high interest low reading level novel.  The cover shows a girl drowning, and Lexi is drowning in her grief, her isolation, and wanting to be "normal". Students who are on the edge can easily identify with Lexi, her grief, socioeconomic status, dysfunctional family, and low self-esteem.   Because of these risk factors, the novel does pull in the students who can relate.  That she is enticed by a "bad boy" who is the "King of the Weed", only intensifies the need to like Lexi.  The author tries to add in a romantic aspect, but does not elaborate, only introducing us at the end.
Novel in Verse     Brooke Gerlach, Manheim Central Middle School