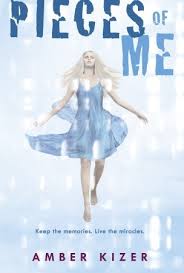 Kizer, Amber. Pieces of Me. New York:  Delacorte Press, 2014.  978- 0385741163  304p. $15.99. Gr. 7-12.
 Fifteen-year-old Jessica is the victim of an act of bullying that leaves her long beautiful hair hacked off, so the cheerleaders can win a contest collecting the most hair to be donated to make wigs for children with cancer. She is promised to be invited to a party that night with all the cool kids and does  not tell her mother about the attack.  On her way to the party, she is involved in an accident and is declared brain dead. Her parents agree to donate her organs so that others may live believing that Jessica has a new-found goal to help others. Thus starts the strange journey readers take with Jessica as she gets to know the young people who receive her body parts, as well as Jessica herself.
There is an exploration of several serious diseases as readers get to know Samuel who receives her kidneys; Vivian who receives her heart and lungs; Leif who receives her tissue to reconstruct his joints, and Misty who receives her liver.  The reader discovers that Jessica is not happy that her body parts are all over the city, and as she finds herself living her life through them, she also comes to terms with her own death and the value of organ donation.  Pieces of Me is an interesting look at a very serious topic that is sure to be of interest to young adult readers.
Realistic Fiction        Marian Kohan, Erie School District