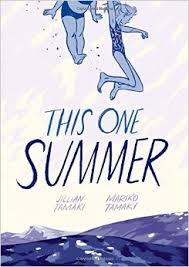 Tamaki, Mariko and Jillian Tamaki. This One Summer. New York:  First Second, 2014.  978- 1626720947  319p. $21.99. Gr. 8-12. 
This beautiful graphic novel is a touching story that realistically highlights that scary time in life when you know that you are no longer a child, but you are definitely not quite a young adult either.  Rose and her parents are going back to the summer lake cottage that they have gone to every summer since she was a little girl. She meets up with her old, younger friend Windy, and together they try to have a fun summer. Now that the girls are older, they are more aware of the problems others are having around them. Rose's mother is extremely depressed, and her parents are fighting more. A local teen is facing an unwanted pregnancy, and her boyfriend wants nothing to do with her. Rose also finds herself wanting more attention from local boys. Even the relationship between the two girls is changing.
Cousins Mariko Tamaki, who wrote the story, and Jillian Tamaki, who illustrated the story, are both so talented in telling the story of a girl who realizes that she is no longer a little girl and growing up brings its own heartache. This story is perfectly balanced: the dark blue illustrations along with simple narrative make this story one to remember.
Graphic Novel          Marian Kohan, Erie School District