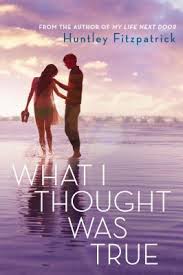 Fitzpatrick, Huntley.  What I Thought Was True.  New York: Dial Books, 2014.  416p. 978-0803-739093.  $17.99.  Gr. 9+. 
Seashell, Connecticut, is made up of the wealthy, main islanders who spend their summers on Seashell Island, and the townies, or islanders, that live their year-round, taking care of the summer clientele.   Gwen is a townie who lives with her housekeeper mother, cousin, and autistic little brother.  She normally waits tables at her father's diner, but this summer she scored a job as a caretaker for a rich widow.  She is looking forward to laying low this summer and getting out of Seashell right after she graduates next spring. Gwen is a smart, intelligent girl who has a bad reputation because she made two mistakes with two main island boys, including Cass.  Cass throws a wrench in Gwen's summer plans when his dad gets him the "character building position" of being an island yard boy.  Seeing Cass on a daily basis brings up complicated and painful memories for Gwen.  She becomes confused as Cass takes time out of his schedule to help out with her little brother.  Gwen realizes that she may have misjudged Cass and some of the other upper class, summer only residents.
I really enjoyed this book while I was reading it, but once I finished, I realized not much actually happened in the book. The only character I really liked was Cass, but there is no teenage boy in the world that would be that patient. It wasn't that I disliked Gwen; I just thought her actions were pretty unrealistic. Since it's in first person, we get a clear insight into her mind and thought process. The reflection passages that detail her actions with Spence and Cass do not reflect how she really is at all. I appreciate that it sends the message that everyone makes mistakes, but I think the unpredictability is unrealistic. I still recommend this one to my Sarah Dessen fans and to those who liked Fitzpatrick's other title, My Life Next Door, which I loved.
Realistic Fiction        Melissa Daugherty, Sharon City Schools