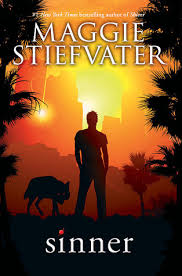 Stiefvater, Maggie. Sinner. New York: Scholastic Press, 2014. 978-0-545-65457-9. 357 p. $18.99. Gr 9 and up.
Maggie Stiefvater returns to her beloved Wolves of Mercy Falls series with this companion novel that spotlights two of the previous books' supporting characters, Cole St. Clair and Isabel Culpeper. Cole, last heard from over a year ago when he passed out onstage with Narkotika (his band), has cleaned up and resurfaced in Los Angeles to sign on with a web reality series and record a new album. His real reason for being in L.A., though, is to reconnect with Isabel, whose family has relocated to California. Isabel loves the attention but is never sure if she can trust Cole to stay faithful, sober, and … human. Cole and Isabel are always circling each other warily (like wolves, maybe?), not exactly trusting but not wanting to back away, either. Stiefvater has brilliantly brought this series out of the high school years, allowing the characters to mature along with her readers. She works the reality TV angle and L.A. culture to great effect. While the wolf element is still very important to Sinner, overall it has a more realistic tone than the previous installments. It's a must-purchase for libraries with readers who enjoyed Shiver, Linger, and Forever.
Fantasy            Amy V. Pickett, Ridley High School
 Jumping in with Sinner might leave readers confused about the past events that are referenced throughout, so reading the entire series is recommended. And truly, no one should be deprived of the great joy of getting to know Sam, Grace, and the wolves of Mercy Falls!