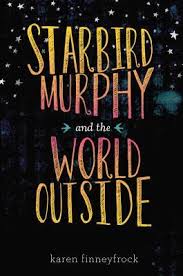 Finneyfrock, Karen. Starbird Murphy and the World Outside. New York:  Viking Juvenile, 2014.   978-0670012763. 379p. $17.99. Gr. 7-12.
 The premise of this book is one that makes you want to pick it up and read it. What if you are sixteen and you had never touched money, and you believe the cosmos is talking to the man your family looks up to and reveres? Now, what would happen if you were now going to a public school and working as a waitress? Starbird begins to see her life in a whole new way and questions her family's leader and her place within her community.
Starbird and her mother live in a commune in the state of Washington where she is in charge of the chickens. A vital job, but Starbird longs to do something more important with her life. When she sees the boy she really likes with another girl, she jumps at the chance to get away from the only life she has known and moves into the city to help the family's restaurant. There she unravels the secrets about her family and discovers the talents hidden within her.
Realistic Fiction               Marian Kohan, Erie School District
I have to say that I was somewhat disappointed with this novel. The character of Starbird is just not realistic of someone who has been born into a cult and is facing facts that contradict all that she knows and loves.  She seems to have an understanding of what is happening to her and while her history teacher and his research assignments are enlightening to Starbird and the reader, it just seems a little bit too contrived. Overall the book takes a look at a very interesting subject and presents it in a very interesting style that would definitely be enjoyed by teen readers.