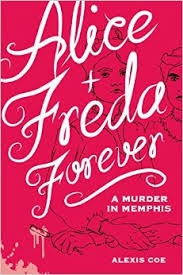 Coe, Alexis and Sally Klann, Ill. Alice & Freda Forever: A Murder in Memphis. San Francisco: Pulp, 2014. 978-1-936976-60-7. 220p. $16.99.
In August 1892, Lizzie Borden, perhaps the most famous American teenager murderess, killed her father and step-mother with an axe.  This heinous crime and subsequent acquittal overshadowed another heinous crime from the same year, not due to the gruesome nature of either crime, but because the murder of Freda Ward, 17, by her lover, Alice Mitchell, 19, on the streets of Memphis, Tennessee, in January 1892, was never prosecuted as murder, but instead insanity.  Alice & Freda Forever follows the forbidden love between Alice Mitchell and Freda Ward, two female teenagers who love one another and want to build a life together, the murder of Freda by Alice in the streets of Memphis, and the subsequent trials of Lillie Johnson (considered an accomplish even though she did not witness the murder) and Alice Mitchell, who is tried for insanity because of her desire to love and marry Freda, not murder.  This beautifully written portrait of one of the earliest publically recorded lesbian relationships in the United States focuses not only of the love between Alice and Freda, but the obsession, act of murder, and trial of Alice Ward, not for Freda's murder, but instead for her sanity, for how could one woman love another and want to marry her; she must be insane.  Coe's research provides not only a human quality to both women, but expands on the history of a stressed South during Reconstruction and a need to maintain the status quo in a time of change.  Each chapter follows the previous chronologically and provides footnotes along with a detailed bibliography.  Pencil drawings are used to illustrate the various characters and actions explained which adds more depth to the women and the society of the time.
364.152; American Crime    Erin Parkinson, Lincoln JSHS, Ellwood City
Alice & Freda Forever: A Murder in Memphis is one of the best nonfiction books of the year.  Not only does it enlighten readers about a high-profile murder that has been lost in history, but it also helps students explore a society in which women had no rights and people were deemed "insane" if their actions did not agree with the white, male society.  The depth of research only adds to the story.  It actually took me quite a while to get through the book because I kept looking at footnotes and reading articles used in researching and writing this book.  I would definitely recommend this for high school libraries and perhaps would use it in conjunction with a criminal justice or American studies course.  This book is heart-wrenching because of the basic fact that Alice was considered insane in her society because she loved another woman and wanted a life with her, but she would have been accepted 120 years later.  I really think this sentiment will stick with students, especially students within the LGBTQ community.