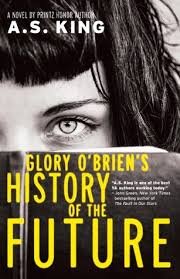 King, A.S.  Glory O'Brien's History of the Future.  New York: Little, Brown and Company, 2014.  978-0-316-22272-3.  306 p. $18.00.  Gr. 9 and up.
Glory O'Brien has just graduated from high school and has no plans for her future.  Having lost her mother to suicide when she was just four years old, she is struggling to find a purpose for life.  When she and her friend, Ellie, drink the ashes of a mummified bat, they begin to see visions for the future.  These visions involve a second civil war and a loss of women's rights, and they terrify Glory.  She starts recording her visions, hoping that her account of this horrible future will somehow prevent it from happening.  Meanwhile, she starts going through her mother's darkroom and journals, as well as piecing together photo journals of her own, in an attempt to find meaning for her own life.  By the end of this complex coming-of-age story, Glory begins to live her life in the present and has hopes for a long and meaningful future.
Realistic Fiction, Paranormal/Dystopian       Julie Ritter, Montoursville Area High School
I had a difficult time classifying this book.  While the protagonist and setting were very realistic, Glory's visions of the future added paranormal and dystopian elements to the story.  Therefore, I could see this book reaching a wide audience, including fans of realistic fiction, fans of dystopian fiction, fans of coming of age stories, and more.  Because of the strong female protagonist and the focus on women's rights in the future, this book would especially resonate with young girls.
I must say I had a hard time getting into this book because of the strange mix of genres.  By the end, however, I was glad I stuck it out.  The message this book sends about cherishing the memories of the past, living in the present, and hoping for the future is one that we could all be reminded of every now and then.  While the ending didn't necessarily tie up all loose ends, it was definitely memorable.
​