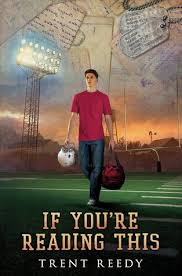 Reedy, Trent. If You're Reading This. New York: Arthur A. Levine Books, 2014. 978-0-545-43342-6. 296 p. $17.99. Gr. 7+.
Sophomore Mike Wilson has perfected the art of living for the future. He studies hard, saves his money, and never pesters his overprotective mom with questions about his father, who died in Afghanistan when Mike was just eight. But everything changes when Mike receives a decade-old letter from his dad that begins, "If you're reading this, then I'm very sorry, but I didn't make it home." This letter, and the ones that follow, are filled with his father's memories, hopes, and advice for his son, as well as a series of "missions" that include going out for a sport, acing a school assignment, and asking a girl for a date. Mike takes the football coach up on his offer to join the team, forging his mom's signature on the permission forms. He also grows closer to Isma, an Iranian-American girl in his class, but in the back of his mind, Mike wonders who is mailing the letters, what really happened on the day his father died, and what will happen when all of these secrets are finally revealed. This is a moving novel with a very authentic small-town feel, and meaningful themes of family, teamwork, and living in the moment. Lots of football scenes add interest, and many readers will relate to Mike's struggles to balance doing the right thing, fitting in, and winning the girl.
Realistic Fiction    Amy Pickett, Ridley High School
In his Acknowledgements, Trent Reedy notes that his own father's untimely death taught him about loss and grief at a young age. The letters from Mike's father are a highlight of the novel: heartfelt, sincere, and inspiring. Maybe because Reedy lived through a loss similar to Mike's, he gets the father-son connection heartbreakingly right.