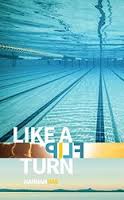 Rae, Hannah. Like a Flip Turn. Gettysburg, PA: Hannah Rae, 2014. Available on Kindle Only. 344p. $2.99. Gr. 9-12.
In the little town of Lake Caywood, three women, all of different ages, find their lives intersecting.  Their stories are very different, but each has a struggle of her own; Jenny has just moved into the town after suffering an emotional break-up with a boyfriend; Lydia must come to terms with the death of her brother, and Old Lady Gallagher needs to decide what will become of her home.I can't say enough good things about this book! I haven't read much magical realism, but this book really enchanted me with that genre. The characters in the book are so well thought out that I connected with them on many levels, waiting to see how the magic would unfold in each of their lives. I really enjoyed reading about Axa's (the art teacher) friendship with Jenny, but the real question is – where can I get myself a Petey Goode!?!
This is the first book written by Hannah Rae, so I'm excited about future books by her. With such a great debut novel, she is guaranteed to make an impact in the book world. Word of advice: scoop up anything this author has to offer!
Realistic Fiction; Fantasy      Nicole Starner, Biglerville HS/Upper Adams MS