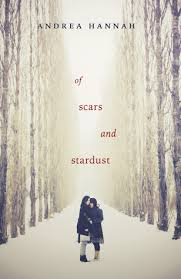 Hannah, Andrea. Of Scars and Stardust. New York:  Flux, 2014.   978-0738740829. 336p. $9.99. Gr. 7-12.
If you like psychological thrillers and don't want to have everything all wrapped up neatly at the end, then this book is for you. Claire is a fifteen year old who has heard stories about the wolves she can hear in her hometown and grows more afraid and fearful of them once she discovers her younger sister bleeding in a cornfield. The story takes some strange twists and turns as Claire is sent to live with her aunt in New York City for two years. When Claire finds out that her sister is missing, she returns to her home and investigates along with her old crush, Grant, only to discover even more disturbing secrets. 
Reading about Claire and uncovering the secrets that surround her is a page tuner. Readers want to know what is going on. Where is Ella, and why did she run away? Are the wolves real or just in Claire's head? And just when you think you have figured out what is going on, the rug is pulled out beneath you.  Saying anything more about the plot would not be fair to readers or the author, but it was an interesting ride to say the least.
Realistic Fiction       Marian Kohan, Erie School District