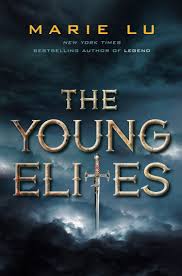 Lu, Marie. The Young Elites. New York: Putnum Juvenile. 978-0-399167-83-6. $18.99. Gr 6-12.
After surviving the deadly blood fever that ravaged her small village nearly a decade ago, Adelina's hair turned silver, her lashes paled and all that remains of her left eye is a deep, ghostly scar. She is among the group of survivors who possess mysterious powers that can't be explained. Instead of being curious and supportive, the townspeople, including Adelina's mean spirited father, shun the survivors and treat them as abominations. After her father tries to sell her off for marriage, a mysterious and fatal accident sends her on the run, and she is eventually recruited by the Young Elites, a group of blood fever survivors who also possess magical abilities. While Adelina is relieved to meet a welcoming, she is also apprehensive and does not know if she can fully trust the Young Elites. Though not as initially engaging as Lu's previous Legend series, Adelina is a fierce protagonist, and Lu's impressive writing will have readers hooked.
Fantasy   Vicki Schwoebel, Friends' Central School
I had high hopes for The Young Elites after loving Lu's Legend series. While I enjoyed it, and it followed the same dual-narrative structure of her previous series, there were tense changes between the characters that I just could not get past. It took me out of the story completely, and therefore feel I didn't enjoy it was much as if it were all told him first person, instead of switching between first and third. The students here don't seem to notice, which is good, and it remains one of the more popular titles on our shelves.