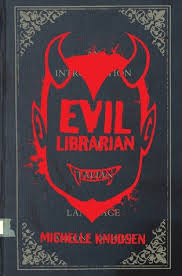 Knudsen, Michelle. Evil Librarian. Somerville, MA: Candlewick Press, 2014. 978-0-7636-6038-3. 343 p. $16.99. Gr. 7 and up.
Cyn Rothschild is a pretty typical high school junior. She swoons over Ryan Halsey from afar, and tolerates merciless teasing from her BFF, Annie, as a result. She's in charge of set design for the fall musical, Sweeney Todd, and she's cooking up a design for a killer barber's chair. Everything is going fine until Annie falls head over heels for dreamy Mr. Gabriel, the new twenty-something librarian who has a somewhat stupefying effect on the students. All of the students, that is, except for Cyn. She soon sees him for what he really is – a demon using the life force of the student body to build up his power (the bloody ritual she witnesses in the library is a bit of a giveaway). She teams up with Ryan to stop Mr. Gabriel's plan to abscond with Annie to the underworld and claim the demon throne. Demonic alliances, secret deals, and an epic battle ensue. This fun, fast read will appeal to fans of tongue-in-cheek horror stories in the vein of Catherine Jinks' The Reformed Vampire Support Group (Harcourt, 2009) or Buffy the Vampire Slayer.
Horror (Humorous)            Amy V. Pickett, Ridley High School
This book, Knudsen's first for a YA audience, had me scrolling through the channel guide looking for syndicated episodes of Buffy! It would make an excellent tie-in to spark interest in Evil Librarian.