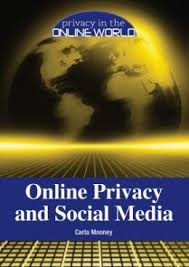 Privacy in the Online World (series). San Diego: Reference Point, 2014. 80p. $28.95 ea. Gr. 9 and up.
Abramovitz, Melissa. Online Privacy and Health Care. 978-1-60152-652-6.
Allen, John. Online Privacy and Hacking. 978-1-60152-728-8.
Henderson, Harry. Online Privacy and the Government. 978-1-60152-726-4.
Mooney, Carla. Online Privacy and Business. 978-1-60152-724-0.
Mooney, Carla. Online Privacy and Social Media. 978-1-60152-730-1.
As more and more of citizen's private information is moved to online and the electronic world, the security of one's personal information has never been more important.  This five-book series aims to inform readers about the many issues and trends surrounding online privacy.  Each volume connects the topic of online privacy to a single issue.  The books open by presenting basic historical information about the topic being discussed and then expand to discuss current issues and/or controversies surrounding the topic.  Numerous real-life examples (many involving young adults) are used to illustrate some of the privacy pitfalls internet users can experience.  Each book concludes with a section entitled "Online Privacy Tips" which summarizes the information presented throughout the text and gives the reader brief bullet points of information to remember.
300s, 600s (various); Internet      Elizabeth Henry, Lampeter-Strasburg HS/MS
Overall, this series is perhaps best suited to the student conducting research, rather than the casual reader.  The volumes are fairly text heavy and the reader can sometimes get bogged down.  The facts, figures, and examples presented would definitely be of use to a student working on a research assignment, speech, etc.  Librarians and educators who teach lessons relating to internet safety and/or online security may also find some of the topics and examples presented to be of use in the classroom.