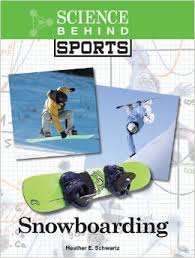 Science Behind Sports (series). Detroit: Lucent, 2014. 100-120pgs. $37.45 ea. Gr. 8 and up.
Abramovitz, Melissa. Skiing. 978-1-42051-182-6.
Allman, Toney. Equestrian. 978-1-42051-180-2.
Brownell, Richard. Wrestling. 978-142051-123-9.
Craig, Lizbeth. Skateboarding. 978-1-42051-212-0.
Currie, Stephen. Cycling. 978-1-42051-120-8.
MacKay, Jennifer. Taekwondo. 978-1-42051-121-5.
Nardo, Don. Surfing. 978-1-42051-156-7.
Sheen, Barbara. Car Racing. 978-1-42051-179-6.
Uschan, Michael V. Golf. 978-1-42051-181-9.
Lucent expands their Science Behind Sports series with the addition of these nine titles.  The purpose of the series is to educate readers about the scientific ideas and concepts behind many of today's most popular sports.  Each volume opens with background information on the history of the sport (and equipment used in the sport).  Additional chapters cover topics such as biomechanics, and health and medical concerns relating to the sport (including nutrition and sports-related injuries).  Physical science concepts (velocity, acceleration, kinetics, etc.) are explained and related to the each sport.  Diagrams, charts/graphs, and sidebars are utilized to supplement the text. 

796; Sports          Elizabeth Henry, Lampeter-Strasburg HS/MS

I had the opportunity to review the Cycling volume, which discussed physical science concepts such as momentum, aerodynamics, balance and steering.  One chapter discussed bicycle components such as the bike frame, brakes, tires, rims, etc.  Additional chapters presented information on muscles used when biking, the importance of proper nutrition/diet, and the topic of performance enhancing drugs and cycling.  Overall, I was impressed with the quality and comprehensive nature of the volume.  The text was very readable and the scientific concepts were presented in easy to understand language and supplemented by clearly-drawn diagrams.  This series could be of interest to the casual reader as well as the student researcher.