Harrison, Hannah E. Extraordinary Jane. New York: Dial Books for Young Readers,  2014. 978-0-8037-3914-7. 32 p. $16.99. Gr. K-3.
Jane is part of a circus dog family. Her mother dances on horseback, her "strongdog" father shows his strength, and her brothers and sisters perform similar daring feats, but Jane is "just Jane." She wants desperately to find the thing that makes her special, but after several disastrous attempts at circus life, Jane still hasn't found her talent. It turns out that the thing that makes Jane special is just…Jane. "Jane is a really good dog" proclaims the circus poster on the last page, and it's so true. She is loved by all for just being herself.
This sweet, simple story is a welcome message in our highly competitive world where children feel so much pressure to be extraordinary. Aside from the positive message, the illustrations are the true highlight of this book. Harrison must be a dog owner because she perfectly captures the spirit and expressions of a small dog. Jane's movements, facial expressions, and body are very realistic, down to her softly pink tummy. The other circus animals and ringleader have well developed personalities thanks to her illustrations, leading readers to understand that the ringleader and other animals love Jane just the way she is. Jane is a treasure who will be loved by all.
 Picture book              Lindsey Long, Nye & Conewago Elementary Schools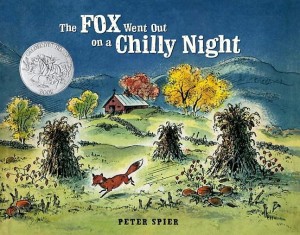 Spier, Peter. The Fox Went Out on a Chilly Night. New York: Doubleday, 2014. 978-0-385-37616-7. unpaged. $17.99. Gr. K-2.
This is a rereleased version of Peter Spier's Caldedott Honor-winning title. The words are made of the old folk song "The Fox Went Out on a Chilly Night" and Spier's illustrations beautifully compliment the song. Each picture is brightly illustrated in watercolor and depicts a sleepy, quiet New England town in which a fox is creating havoc late one night in old mother Giggle-Gaggle's duck and goose pen.

A note from Spier in the back of the book explains his motivation in redoing the book that won a Caldecott Honor Medal in 1961. The original edition was published with a colored illustration on one page and a black and white illustration on the other side, simply to save the publisher money. Spier always felt a strong connection to this book which was inspired by a trip through Vermont that he and his wife took as newlyweds. The redone illustrations are lush and beautiful, and while the song is old fashioned and a little macabre in places, it's a simple story of an animal feeding his family. A well-done update.
Picture book              Lindsey Long, Nye & Conewago Elementary Schools
Shea, Bob. Kid Sheriff and the Terrible Toads. New York: Roaring Brook Press, 2014. 978-1-59643-975-7. $17.99. Gr. K-2.
When reading this story, whether aloud or in your head, one cannot help but use an impassive southern drawl, which ends up being hilariously juxtaposed against a silly story about a town under attack by "terrible toads" (these toads being the detestable person type, not the amphibious type). It turns out that the town's only hope against said toads might be their new sheriff, Ryan, a young fellow who knows a lot about dinosaurs and whose preferred mode of transportation is a tortoise. An unlikely candidate for taking down criminals, you might ask? Ryan's dinosaur knowledge paired with his nonchalance are really all that is needed to complete the task. By accusing dinosaurs of all the robberies in town, the real criminals feel slighted for not receiving the credit that they so deserve for their deplorable behavior. Ryan, being the dino-lover that he is, might truly believe that a T-Rex caused the massive bank break-in, but he still manages to outsmart the crooks, bringing the town of Drywater Gulch back to its peaceful, normal, toad-free self.
Looking for a storytime hit? This book has got you covered. I recently tested the waters with a few first grade classes and they found the entire thing hysterical. What's not to love? Our hero is a young boy and a sheriff. He rides a tortoise, convinces the mayor that dinosaurs have been robbing the town dry, and has the last laugh when he manages to trick those nasty toads into jail. Add a southern accent and silly voices when reading and your students will think you're a rock star!
Picture Book   Lisa Naylor, Concord Elementary
McDonnell, Patrick. A Perfectly Messed Up Story.  New York: Little , Brown & Company, 2014. 978-0316222587. 40p. $12.00. Gr. K-2.
In this fun primary read,  cartoonist, Patrick McDonnell, brings us little Louie who excitedly begins to tell us his happy tale as he skips and jumps across the pages. Sudeenly it starts getting messed up by jelly, peanut butter and crayon. Louie gets so frustrated and horrified by the messy book that he is ready to give up! Finally he realizes that life is not perfect and neither are stories. This is also an excellent book to teach incoming Kindergarteners and First Graders about proper book care!
Picture Book        Robin Bartley, Davis Elementary School
Roscoe, Lily. The Night Parade. New York, NY: Orchard Press, an imprint of Scholastic, 2014. 978-0-545-39623-3. unpaged. $16.99. Grades Pre-K to 1.
Kids can certainly be sneaky after bedtime, but this light and lively bedtime story let's the children roam happily through the night exploring and playing with innocence. Roscoe uses simple rhyming couplets to take the night adventurers to town while Illustrator David Walker uses warm watercolors to keep the merriment interesting. There are odes to Sendak's work and other nocturnal tales of the night life, all of which help fill in the time gap from dusk to dawn for little dreamers. This is an enjoyable addition to that bedtime tradition.
Fiction; Picture Book   Dustin Brackbill State College Area School District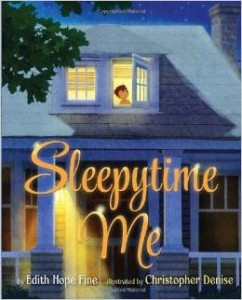 Fine, Edith Hope. Sleepytime Me. New York: Random House, 2014. 978-0-449-81062-0.   32 pages. $17.99. Grades PK -1
Sleepytime Me is a soft and soothing book that is perfect for winding down before bed.  The beautiful illustrations depicting family members as evening falls are captivating. The sweet rhythmic poetry and the repetitive phrases make this a wonderful bedtime book that children and parents will love.
Picture Book            Donna Fernandez, Calvary Christian Academy