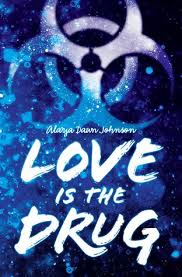 Johnson, Alaya Dawn.  Love is the Drug.  New York: Arthur A. Levine, 2014.  978-0-545-41781-5.  335 p. $17.99.  Gr. 9-12.
Emily Bird is a privileged African American teenager who attends a private school in Washington, D.C.  Both of her parents are high profile scientists, and her mother has high expectations for Emily (who prefers to be called Bird) to socialize with the right crowd and eventually attend an Ivy League school.  However, Bird's perfect world is shattered when she wakes up in the hospital with no recollection of how she got there.  The last thing she remembers is attending a party at which she spoke with Roosevelt David, a government security agent.  Now, the country has been hit by a flu pandemic, and although the government claims this to be an act of bioterrorism, Bird soon starts to believe that she knows an awful secret about the origins of the outbreak…if only she could remember.  As she struggles to remember the details of the night she landed in the hospital, Bird must determine who she can and can't trust.  She finds an ally in Coffee, a drug-dealing son of a diplomat, and as the two of them work together to discover the truth, she finds herself falling in love and gaining both confidence and independence.
Realistic Fiction           Julie Ritter, Montoursville Area High School
​There are many layers to this story: class and racial inequities, government power and corruption, science fiction elements, a rocky mother-daughter relationship, a passionate love story and a coming of age story.  Therefore, I can see this story appealing to a wide variety of audiences.  I do, however, think the story is better suited for upper level students.  There are a lot of details that require close attention, and because the reader knows only as much as Bird throughout the story, there are many gaps that might cause confusion and frustration for lower level students.  There is also some off-page sex in the book that might not be suitable for younger readers.  The suspense of discovering the earth-shattering secret about the flu pandemic, however, will keep readers turning the pages until the very end.